Loading Obsolete Cartridges
The .450/.400, 2-3/8" BPE
By: Jim Townsend
As with everything in our society this project began with a phone call. I have friends that work at Mac Dill AFB for SOCCENT and SOCOM that I have been shooting, hunting and riding Harley-Davidson's with for years.
We frequent the Wyoming-Antelope Shooting Range in St. Petersburg, Florida on Saturday mornings to shoot. Then we stop at Deer Hunter Guns in Clearwater, Florida to see if he has anything new (mostly old guns in our case), and then to the original Hooter's across the street for some wings. After that we head to the house and clean our weapons.
About three months ago I was working and unable to go shooting (I am a contractor that builds and repairs Nuclear Power Plants and have to be at my customers beck and call) and I received a phone call at work from a buddy. "Deer Hunter has a Holland & Holland Royal Double Rifle in his store", my Lieutenant Colonel buddy was telling me on the phone. I asked what shape, how much and what caliber? He told me it was in great shape and it had been manufactured in 1896, he wants $10,500.00 for the rifle and it is a .450/.400 2-3/8" cartridge.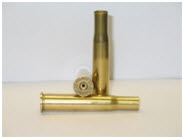 Not Paying attention to the 2-3/8" cartridge length and thinking it was a 3" cartridge, I found this information. Developed in 1902, the .450-400 NE 3" was very popular before the .375 H&H Magnum was manufactured. Still one of the most effective cartridges for big game hunting and recommended by two famous, well experienced hunters; Pondoro Taylor and Elmer Keith. I told Lt. Col. Ketner to put my name on it and I would look when I got back in a week.
I immediately began to research the rifle and the cartridge. I looked up the cartridge in "Cartridges of the World, 12th Edition" Book by Frank Barnes. I contacted Keith VanOrman at Turnbull Restorations in Bloomfield, New York as Keith and Doug Turnbull are friends of mine and have restored a number of these weapons. Keith put me in contact with Dave Cruz of Holland & Holland in NYC. I gave Dave the serial number. Like Colt & Winchester, Holland & Holland keeps records on all their guns. He told me it was manufactured in 1896 that it was a .450/.400 Royal hammerless, weight 7 pounds 1 oz., 2-3/8" BPE rifle, with a sight type of leaf sights for 50-150 and 200-250 yards , cast off ¼" X 3/8", and the stock length to centre 14-13/16". He also gave me the data the rifle was shot and regulated with, 3 drams of Hall's powder and the casing was 2- 3/8". The rifle "Lettered" to the original specifications and now I wanted it.
Armed with this information I went in to see Dan Knoll the owner of Deer Hunter Guns and after inspecting it, and then fondling the Holland & Holland Royal Double Rifle, I purchased it. I have a few double rifles, a .470 NE, .500 NE, .375 H&H Magnum, and a Cape Gun 20 gauge left barrel, .30-06 right barrel. All these rifles are Merkel's and while they are very well made works of art that shoot accurately (as attested by a number of dead African animals including Cape Buffalo in my trophy room) they don't have the lines and attraction of the Holland & Holland Royal Double Rifle. The H&H Doubles are much like the grace of a Spitfire as opposed to the no nonsense tank like structure of the ME-109. The H&H Royal just looks and feels elegant with a killer's deportment.
Now the real work began. I have been loading for 41 years, I am an NRA Certified instructor for all disciplines including reloading, and I have been called a" gun nut" by hardcore shooters. Even with this background, I wasn't aware of all the work I was about to take on. I started researching the cartridge and found a number of things that made my life difficult but not untenable.
The first issue was what is the difference between BPE (Black Powder Express) and NE (Nitro Express)? I disassembled the rifle and looked at the proof marks on the barrel. I searched the Internet for proof mark data for H&H Royal Double Rifles and downloaded the sheet. The proof marks and their meanings are as follows;

The proof marks show that it was "Proofed" at the London Proof House, with the type of proof and gun as "provisional proof for barrels." Additional proof marks show the Proof House as London with the type of proof and gun as "definitive black powder proof for shotguns , muzzle loader barrels." It also shows the London Proof House type of proof and gun "view mark." During the end of the 19th century they had developed smokeless powder and were using Cordite in some of the "Express" rifles. These were marked NE Proofed. The older weapons and cartridges were proofed using black powder. Based on the above information I now know mine is black powder and loads must be developed accordingly.
The next thing I should have done, but did not, as I don't have the ability or tooling was to slug the barrel to get the actual diameter. I do have the ability through work to get to very accurate measuring devices and used a set of inside micrometers to get a .4076 inside dimension. I also recovered a number of fired bullets at the range from the sand backstop and got consistent .4076 diameter base measurements.
When I purchased the rifle it came with 60 rounds of ammunition. I pulled one of the bullets and it had a 250 grain, .410 diameter lead cast bullet. It had 38 grains of a powder that I could not identify (it appeared to be IMR 4198, but there was no way to tell). The three boxes of ammunition had a name on it of a custom ammunition manufacturer in Michigan. I attempted to contact him to get the load data and found that the phone had been disconnected. Fred Huntington later told me that this fellow had died a few years earlier.
I contacted Fred Huntington at Huntington's (RCBS fame, http://www.huntingtons.com/ ) in Oroville, CA., and asked him about reloading and forming dies, and if he had any load data. He said that the reloading dies, and the case forming dies are special order and that it would take about 6 weeks to get them made. He couldn't find any load data but he did have some Woodleigh bullets in .410 diameter in stock for the .450/.400, 3 ¼" NE in 400 grain. He also had some Woodleigh Purdey .405 diameter, 230-grain bullets in stock. I ordered the dies, bullets, and a shell holder to get me going. I also ordered some .450 NE 3 ¼" Jamison International Brass. http://www.jamisoninternational.com/ .
I then contacted a few additional sources of loading information that I have used in the past. We have a local reloading supply house in Clearwater, Harbor Reloading Supply and he has an extensive background and many years of experience. Bob was unable to come up with any data for me that I had not already found. I contacted H&H again and they could give no data. I contacted Buffalo Bore in Wyoming and they had no data on this cartridge, I contacted Kynoch and they had no data even though they had manufactured this cartridge up until 1954. Eley had discontinued this cartridge in 1919. I contacted Geoff MacDonald at Woodleigh Bullets in Australia and while he has bullets he could provide no data. Finally I contacted Doug Turnbull at Turnbull Manufacturing and discussed the problem with him.
Doug had developed the .475 Turnbull cartridge that he chambers for the 1886 style rifles that he manufactures. Doug had taken an old Winchester cartridge that Winchester had given up on and he and Dave Scovill the Editor of "Rifle Magazine" perfected it into a dangerous game-stopping cartridge that even Craig Boddington has shot African "Big Five" with great success. Doug said he would see what he could find on the cartridge.
In the meantime I searched the Internet and some of my reference books. Through a few books, mainly, "Shooting the British Double Rifle: A Modern Guide for Load Development and Use" Book by Graeme Wright, I was able to come up with an original load of 32 grains of cordite using a 270-grain metal base copper tube bullet in a 27" barrel, and a black powder load of 80-grains of black powder using a 230-grain copper tubed bullet, developing 1650 fps and 1640 ft/lbs of muzzle energy. It also lists a load using a 230-grain bullet, developing 1750 fps and 1563 ft/lbs of muzzle energy. This information comes from page 166 Appendix Three. I had already shot some of the ammunition that came with the rifle and chronographed it at 1835 feet per second. This was a little faster than the data in Graeme Wright's book. Further research confirmed the data in Wright's book and from the book "Eley Cartridges: History of the Silversmiths and Ammunition Manufacturers", by: Bill Harding and "Birmingham Cartridge Manufacturers", by; Bill Harding.
Armed with this information I now had a starting point for powder. As this is a fine weapon that I consider to be a "Piece of Art" I did not wish to harm it by subjecting it to over-pressure situations. Having no way to measure CUP (Copper Units of Pressure) in it I decided to start with a slow burning powder that would fill the case. Talking with Doug Turnbull he agreed. Next I searched the Web and downloaded powder burn rate charts from a couple different sites. One is http://www.reloadbench/burn.html and another is http://www.reloadersnest.com/burnrates.asp.
While I have never put much stock in burn rate charts and have always worked within the parameters of the major manufacturers reloading manuals I had nowhere else to start other than here. I also found a website in Australia that published a cordite/black powder to smokeless powder equivalency chart. I compiled the following information using this data.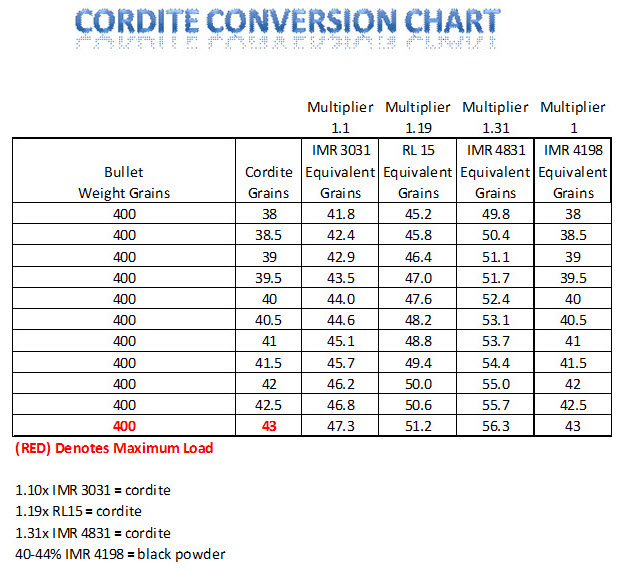 Note: This chart is provided as a guideline only. The condition of your rifle may not allow the pressures provided by this data and could cause injury or bodily harm, including destruction of your weapon and property and possible loss of life. This data was downloaded from an Internet website in Australia and we cannot confirm its validity.
After talking with Doug Turnbull again, he found a place that actually had .450/.400, 2-3/8" dies in stock and a shell holder. C&H 4D sent them directly to me the next day and I began loading test rounds.
Based on the burn rate charts I chose IMR 4831 and loaded the 400 grain Woodleigh Bullets used in the .450/.400 NE 3 ¼" loads. I used the loaded ammunition I already had as a seating depth guide as well as the information I acquired in my research of the cartridge overall length. I began at 34 grains of IMR 4831 loading 5 rounds of each powder weight, moving up 1 grain at a time, ending at 48 grains of powder. While I had no pressure issues I did have a few problems. I used Federal GM215M primers. These are Federal's top of the line primers for bench rest shooters. I never scrimp on components when loading. However during the recent shortages they have been tough to come by.
I chronographed all the results of each powder weight. I used more tape in the printer on this project than I have in the 10 years of owning the Chrony. I started at muzzle velocities not much better than a .45ACP load. The initial results were around 975 fps at the 34-grain load. At the top end (48-grains) of the IMR 4831, I achieved an average of 1485 fps while the case was almost completely filled with powder. The issue I had using this slow burning powder was that even using a magnum primer, I had a lot of remaining un-burned powder. There was so much in the 46-48 grain loads that it actually fouled the action of the double rifle to the point that it would not lock up and had to be field stripped and cleaned to continue.
Another issue was the 400-grain bullets. In one 10 shot string at 50 yards, I had 5 bullets keyhole, 3 bullets miss the target completely with only two bullets punching a normal hole in the target. Whether it was insufficient twist or lack of velocity I can't tell, but they did not perform well in this rifle. I stopped testing of this bullet and pulled all the bullets to start again the next weekend. I ordered some of the 230-grain Woodleigh Purdey .405 diameter bullets from Huntington's and this made a big difference. While I wasn't shooting for accuracy, only muzzle velocity, I started shooting 1" groups at 50 yards.
I now began looking for another source of .408 diameter bullets in 230 grain and 270 grains. Doug Turnbull suggested I check out Hawk Bullets http://www.hawkbullets.com/Pricelist.htm. Not only did Hawk have a 235-grain but they also had a 270-grain bullet, and they were in stock. Both of these and the Woodleigh bullets performed flawlessly out of the H&H Royal DBR.
Next I moved to IMR 4350 powder using the same methods and starting points and experienced the same results. It too was too slow of a burning powder for this load.
Finally, I moved up to a faster burning powder, IMR 4895. I still wanted a powder that burned slow enough to decrease pressures but fast enough to burn all the powder and stop the fouling of the rifles close tolerances, In addition I didn't want to have a half empty case and be required to use a filler such as Dacron to hold the powder in place. Half empty cases have a way of causing excess pressures, which tend to cause injury to life and limb and destroy weapons in the same manner as a hand grenade. I finally succeeded in my 6th weekend of trying. The IMR 4895 at 48 grains with 230 grain Woodleigh and 235 Grain Hawk Bullets gave exceptional results. I was shooting 1-1/4" groups at 100 yards using them and shooting 2" groups at 100 using the 270 grain Hawk Bullets. The muzzle velocity is 1755 fps, which is right on the books published muzzle velocity data.
During the process of shooting and loading I noticed that my 40 rounds of BELL brass that I was working with were beginning to "work harden". This is a result from the brass being stressed and expanded during firing, and then being squeezed back into the proper dimensions during the reloading sizing. Brass gets harder the more it is worked. One of the by-products of this hardening is stress cracks in the shoulder area of the case. When you begin to see these it is time to anneal your cartridges.
Annealing is a process in which you heat the brass at the shoulder and neck to over 650 degrees Fahrenheit for a set amount of time while not allowing the body or base to get over 400 degrees Fahrenheit. There are a number of ways to achieve this.
The "old" method of putting a cartridge in a pan of water 1/3 of the way up the cartridge, sitting that on a lazy Susan and spinning the pan while you heat it with a torch, then knocking the brass over into the water to cool it is challenging. This method will work if you are very knowledgeable and very good. It is also very S-L-O-W.
They make a paint that you can buy at most welding supply stores called TempilacÒ that is heat sensitive, it comes in 50 degree F increments. You can apply 400 degree F to the base of the cartridge and 750 degree F to the inside of the neck of the cartridge. When you reach the proper temperature the TempilacÒ will turn clear. If the bottom (base) turns clear then throw away the cartridge as you have destroyed it and made it unusable. Annealing properly is imperative. Improperly annealed cases can cause your chamber to explode if the entire cartridge is too soft.
The best way I have found to anneal cases is to purchase an annealing machine. I have two different manufacturers' machines. One is Ken Light Manufacturing, http://www.kenlightmfg.com/ and the other is Bench Source http://www.bench-source.com. Both of these machines take all the "guess work" out of annealing and will cause you to have longer case life and better accuracy.

Using an annealing machine is much faster at a rate of 400-800 cases per hour. I annealed all my .450 NE Thin Rimmed 3 ¼" Jamison Brass that I formed the .450/.400. 2-3/8" BPE from, before forming them. It made the forming work much easier.
When the dies came in from Huntington, I already had 100 rounds of .450 NE 3 ¼" Brass annealed and ready to form. I set up the RCBS Rock Chucker press and formed all 100 rounds. The dies came in a four-die set, two forming dies a trimming die, and a neck-reaming die. To double-check my progress I used a couple of the stress-cracked cartridges to check the process. All went well. After forming the cartridges you must now trim them to length.
A trim die is included in the box and after you set it up in the press you run the newly formed cartridge to the top of the stroke and then take a hack saw and cut off the excess. Next you take a file and file the end of the cartridge flush to the die. Next you take a de-burring tool and clean up the inside and outside of the case mouth. Now you take the reamer and die provided by Huntington to the inside of the case mouth to take out the excess "squeezed" brass inside the case mouth to the proper inside diameter. Then the brass went into the case polisher for a few hour ride in the media.
I have a power case trimmer coming from Gracey Trimmers in California. http://www.matchprep.com/trimmer.htm. This should improve case trimming time and ease.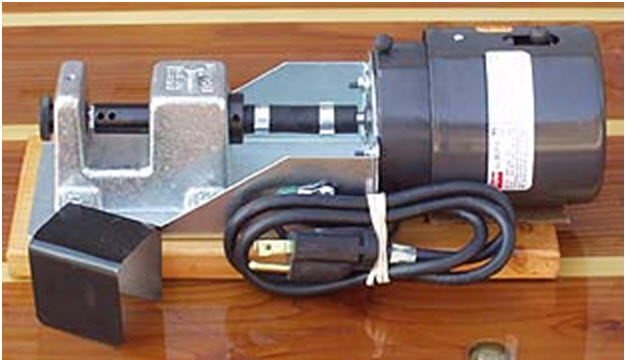 The Gracey Power Cartridge Case Trimmer:
Double rifles are regulated at 80 yards meaning they are to have the right barrel and left barrel impact at the same point at 80 yards.. As their barrels are side-by-side there is a point where the bullets will have to cross. I don't know who or why but someone somewhere decided that point is 80 yards. When the rifles are made they are hand fitted to impact left and right barrel, to that center point of 80 yards. My rifle shoots 5-1/2" low at 50 yards and about 7-1/2" low at 100 yards. Vertically (Side to Side / Windage) it is dead on at the 80- yard regulated range with the newly completed ammunition.
When I purchased the rifle it did not come in the traditional Holland & Holland Royal Double Rifle red case. I sent it to Dave Cruz at Holland & Holland in NYC for him to measure it so they could make a case for it. I asked Dave to send it over to Turnbull Restorations for them to work on it.
I called Keith VanOrman at Turnbull and asked him to either lower the front sights or raise the rear to shoot dead on at 80 yards. I also asked Keith to restore the metal as it has some wear on it and could use a new finish. The wood is in excellent shape and doesn't need much in the way of help.
All in all it was more of a project than I had anticipated. It wasn't at all like accurizing a load for your favorite hunting rifle through different bullet weights and powders. This was like developing a cartridge from scratch. Having completed this project gives me a great sense of accomplishment and satisfaction. Now it is time to take this wonderful old rifle back to Africa and shoot some plains game as the rifle and cartridge were designed and destined to do.