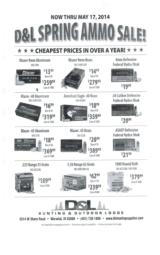 BLAZER / FEDERAL .40 RANGE AMMO $319.99 / $359.99 PER 1000 ROUNDS NEW!!!
Guns International #: 100442927 Seller's Inventory #:
Category: Ammo - American Handgun -

Seller's Information
When emailing or calling sellers direct, please mention that you saw their listing on GunsInternational.com



Seller: D&L HUNTING
Company: D&L HUNTING & OUTDOOR LODGE
Member Since: 10/28/11
State: Rhode Island
Country: United States
Phone: 401-738-1889
Fax: 401-738-9912
Platinum Seller
Number of Active Listings: 384
Total Number of Listings: 4300
Seller: FFL Dealer
Return Policy: 3 day inspection and return policy on used guns.
No return of new items. Any defect must be returned to manufacturer for warranty.
Payment Types Accepted: All Major Credit Cards


Description:


RECEIVED IN BLAZER ALUMINUM AND BLAZER BRASS 165 GR AND 180 GR AMMO PRICED PER 1000 ROUNDS. NO SALES TAX CHEAP SHIPPING. LIMITED SUPPLIES

SKU'S 3549, 3589, AE40R1

CALL STORE TO ORDER 401-738-1889



Price: $319.99 AL. / $359.99 BR.