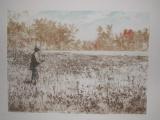 SPORTING CLASSIC AND SHOOTING ART BY A.B. FROST
Guns International #: 100115251 Seller's Inventory #: NO SN
Category: Art - Painting & Print - Collectibles - Sporting

Seller's Information
When emailing or calling sellers direct, please mention that you saw their listing on GunsInternational.com



Seller: George Lander
Company: THE LAND COMPANY
Member Since: 1/1/08
First Name: George
Last Name: Lander
State: South Carolina
Zip: 29072
Country: United States
Phone: (803) 240-3271
Fax:
Number of Active Listings: 94
Total Number of Listings: 279
Seller: Private Seller
Return Policy: 3 day inspection and return policy on used guns.
3 days
Payment Types Accepted: personal, business, cashier's check or money order


Description:


Four prints by well known artist, A.B. Frost. Each print depicts sporting classic and shooting scenes. The pictures provided really don't do this amazing art and justice. Colors are rich and vivid. Prints are extremely high quality and in excellent condition. Not framed.

Three prints come from Shooting Pictures, a portfolio published by Charles Scribner's and Sons, NY, 1895. There were only 2500 editions published, each containing 12 prints. Each print measures 20" x 13".

Autumn Woodcock $600.00
Autumn Grouse $600.00
Prarie Chuckers $600.00

This print is signed, named, and numbered by the artist. Marked Golden Age Series, No. 1. 291/950. First Point by A.B. Frost. Copyright Sporting Classics Publishing Co. Inc. VERY GOOD CONDITION!! Print measures 25" x 18".First Point $600.00



Price: $600.00 EA. OR ALL FOUR FOR $2,200.00 !