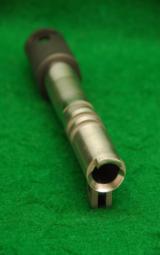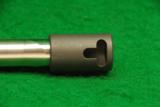 4" Compensated 1911 Barrel .45 Auto
Guns International #: 100511286 Seller's Inventory #: 1911BBL
Category: Barrels - Handgun -

Seller's Information
When emailing or calling sellers direct, please mention that you saw their listing on GunsInternational.com



Seller: NW Ponyexpress
Company: Northwest Ponyexpress
Member Since: 8/21/10
State: Idaho
Country: United States
Phone: (208) 762-0740
Fax: (208) 762-0749
Platinum Seller
Number of Active Listings: 238
Seller: FFL Dealer
Return Policy: 3 day inspection and return policy on used guns.
3 days
Payment Types Accepted: Credit Cards plus 3%, Checks, M.O.'s


Description:

4" Compensated 1911 Barrel
.45 Auto
Maker Unknown
1 in 16" Left Hand Twist (Normal for 1911s)
Muzzle diameter .697"
Non-ramped, wide mouth for reliable hollow point feeding.
Compensator will be fixed in position with Locktite, is actually threaded several turns further than necessary, for aligning with slide on different makes of guns. May require some gunsmith fitting to individual gun.
Condition is As New, unmounted and unfired.


Price: $139.00