Gun Cases - European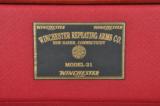 This new case will hold one side by side shotgun receiver (it was built for the Winchester 21) and one set of barrels up to 32" in length. The lined interior has several compartments for cleanin
...Click for more info
Seller: CheaperThanDirt
Area Code: 817
$810 shipped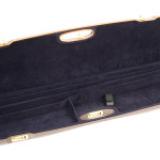 NEGRINI GUN CASE - PERFECT SOLUTION FOR TRAVELING BY AIR OR TO THE RANGE. CASE HOLDS 1 GUN AND 2 BARRELS. THIS CASE IS HOLDS BARRELS UP TO 36.75" AND IS PERFECT FOR LOW TO MEDIUM R
...Click for more info
Seller: New London Arms Co.
Area Code: 704
Call
Seller: Dismal River Armory
Area Code: 308
$240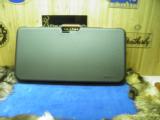 BLASER TWO BARREL COMPACT HARD PROTECTIVE CASE FOR THE BLASER R93 OR R8 CASE MEASUREMENTS 31" WIDE X 16" DEEP X 31/2" HIGH, BLACK OUTERSHELL WITH SEWN LEATHER EDGINGS, THREE BRASS COMBI
...Click for more info
Seller: mikescustomshop
Area Code: 406
$350.00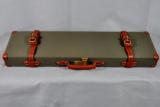 Unknown manufacturer, trunk gun case, holds a 12 gauge Over/Under up to 30", canvas with leather corners, Excellent condition, Retail value $300.00,
...Click for more info
Seller: Maryland Arms Company
Area Code: 410
$195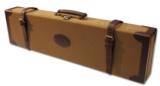 CANVAS/LEATHER HARD GUN CASE WITH STRAPS, BRAND NEW UNIVERSAL GUN CASE, SWISS COMBINATION LOCKS, IMPORTED FROM EUROPE. VERY IMPRESSIVE AND ELEGANT LOOKING CASE, BRAND NEW. CASE MEASURES 31 3/4"
...Click for more info
Seller: Eurochasse
Area Code: 203
$199.00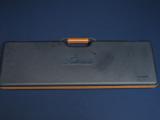 Seller: Crosnoe Guns
Area Code: 573
$550.00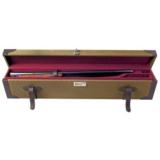 CANVAS/LEATHER HARD MOTOR CASE, NEW IMPORTED FROM EUROPE. SWISS LOCKS AND KEYS. VERY IMPRESSIVE LOOKING CASE, BRAND NEW. CASE MEASURES 32 3/4" LONG, FITS UP TO 31" GUN SPECIAL PRICING WHIL
...Click for more info
Seller: Eurochasse
Area Code: 203
$159.00
PLEASE CALL 517-238-5655 BETWEEN 11 AM AND 11 PM EST TO DISCUSS THIS HARD TO FIND ORIGINAL SAUER 200 TAKE DOWN CASE. THE CASE HAS BEEN RESTORED AND IS READY FOR IMMEDIATE USE. RECENT
...Click for more info
Seller: ZEBRA
Area Code: 517
$475.00