Sorry! You're too late.
The GERBER MARK I COMBAT SURVIVAL KNIFE WITH 4 3/4 IN. DOUBLE EDGED HIGH CARBON SURGICAL STAINLESS BLADE & BLACK LEATHER SHEATH GI# 100663097 has been sold.
Click
here
to see what else is available by Artemis Outfitters.
View other listings in this category....
Knives - Gerber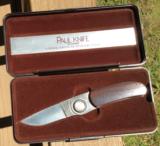 Excellent Paul knife made by Gerber, 2PW with case. Note: case is plastic and is broken in couple of places but still snaps together. New. Unsharped. Free shipping.
...Click for more info
Seller: Kep
Area Code: 828
$200.00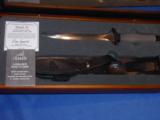 GERBER 70TH ANNIVERSARY MK II WALNUT DISPLAY CASE WITH GLASS TOP. BRAND NEW! NEVER USED! COMPLETE WITH PAPERS. ABSOLUTELY BRAND NEW!!! ...KNIFE REMOVED FROM PACKAG
...Click for more info
Seller: BAUMASSOC
Area Code: 262
REDUCED TO $349.00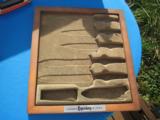 A vintage factory display board for Gerber Mark 1 and Mark 2 combat blades and others. The board is inletted for the knives to set in, good condition. USPS Priority mail is 15,00
...Click for more info
Seller: Jacob Hranowskyj
Area Code: 804
$150.00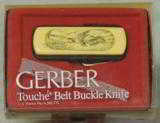 Gerber Touche` Belt Buckle Knife Landing Duck scrimshaw design by Blair Perfect concealable belt buckle knife New in original packaging Discontinued years ago Slimline version #7323 2 oz
...Click for more info
Seller: Elephant & Castle Fine Arms
Area Code: 417
$249.00