Reloading Equipment and Tools - English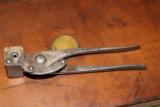 A rare Alex Henry .500 bullet mold with the sprue cutter that cuts off the sprue when the mold is opened. Mold needs cleaned and polished. Light pitting on top of the sprue cutter that could be polish
...Click for more info
Seller: GDavidson
Area Code: 740
$350.00 "FINAL REDUCTION"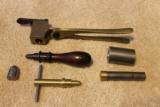 This is an exact copy of a Forsyth explosive 8 Bore bullet mold made from an original I used to own. The bullet is cast in two pieces and filled with an explosive compound and swaged into one piece. I
...Click for more info
Seller: GDavidson
Area Code: 740
$925.00 "FINAL REDUCTION"
4-8-10-12 Bore Wads and cards, includes Wonder Wads, BP wads, Cards, Wonder Lube Lubed Wads in all guages. I have a wide assotment of loading components and equipment for english rifles, gauge rifles
...Click for more info
Seller: W David Powell
Area Code: 727
Call