Sheffield Knives

ANTIQUE THOMAS SHORT OF SHEFFIELD IVORY MINIATURE FOLDING KNIFE CIRCA 1850. 2 5/8" overall with two blades. Both blades stamped in tiny letters 'T.F. Short & Co./ Sheffield". Thomas Short fe
...Click for more info
Seller: David Condon, Inc.
Area Code: 540
$250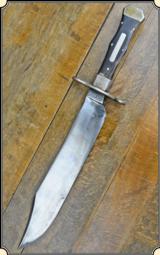 Civil War era U(STAR)S Clip-Point Bowie, ca. 1800-1850 No sheath. Overall measuring 15 inch with a 9 1/2 inch clip-point blade (full tang). Buffalo or cow horn grips with steel handle pins and no chip
...Click for more info
Seller: River Junction Trade Co.
Area Code: 563
- $3,000.00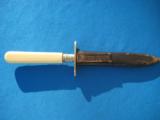 A fine antique Naval Dirk made by the famous English Cutler "Joseph Allen & Sons" of Sheffield England. It is marked NON XLL and this Dirk would date to the early to mid 1890's. The
...Click for more info
Seller: Jacob Hranowskyj
Area Code: 804
$600.00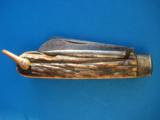 A beautiful Sailors or Seamans folding knife made by the famous English cutlery firm of Joseph Allen & Son's Sheffield. The blade has the NON XLL mark with the Sheffield address which dates it
...Click for more info
Seller: Jacob Hranowskyj
Area Code: 804
$425.00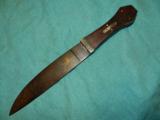 this coffin handled bowie has good age but not abused.Total length is 13 1/2" long, and a blade of 8 1/4" long. Wood panels look like walnut, and are held with 6 brass pins, and the left sid
...Click for more info
Seller: HOME TOWN GUNS
Area Code: 860
$595.00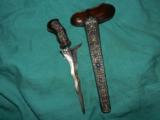 This solid silver presentation Kris is marked .925 on the hilt, and the blade, handle, and repousse' scabbard are all silver, set with jewels. Overall it measures about 13", with a solid silve
...Click for more info
Seller: HOME TOWN GUNS
Area Code: 860
$950.00