Sorry! You're too late.
The George Woodhead Spearpoint Belt Knife GI# 100664382 has been sold.
Click
here
to see what else is available by NW Ponyexpress.
View other listings in this category....
Featured Gun Classifieds Sheffield Knives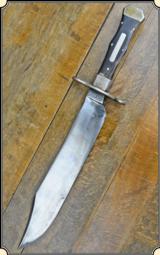 Civil War era U(STAR)S Clip-Point Bowie, ca. 1800-1850 No sheath. Overall measuring 15 inch with a 9 1/2 inch clip-point blade (full tang). Buffalo or cow horn grips with steel handle pins and no chip
...Click for more info
Seller: River Junction Trade Co.
Area Code: 563
$1995.00

Wade & Butcher, Sheffield, England sheath knife retailed by the great Chicago sporting goods store Von Lengerke & Antoi
...Click for more info
Seller: Dismal River Armory
Area Code: 308
$325
Sheffield Knives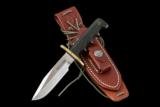 Seller: Steve Barnett Fine Guns
Area Code: 662
$650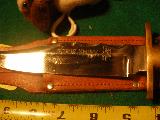 Bowie Sheffield - English, 10 1/2 " overall. Mint condition, never used. Non original leather sheeth included. $120.00 plus $15.00 shipping. For more information call Rick at 973-478-5066.
...Click for more info
Seller: Rick RK
Area Code: 973
$120.00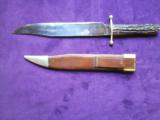 Seller: VCA
Area Code: 815
best offer over $1800-00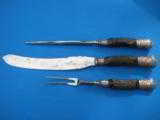 A very fine antique carving set made by Walker & Hall of Sheffield. The carving set consists of the carving knife, fork and steel all beautifully mounted with very fancy sterling mounts and stag h
...Click for more info
Seller: Jacob Hranowskyj
Area Code: 804
$350.00
A fine, rare and large antique folding knife by George Wostenholm of Sheffield. This is a marked IXL blade knife with Wostenholm's address of the 1860-1870's period. The clip point blade measu
...Click for more info
Seller: Jacob Hranowskyj
Area Code: 804
$1,150.00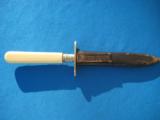 A fine antique Naval Dirk made by the famous English Cutler "Joseph Allen & Sons" of Sheffield England. It is marked NON XLL and this Dirk would date to the early to mid 1890's. The
...Click for more info
Seller: Jacob Hranowskyj
Area Code: 804
$600.00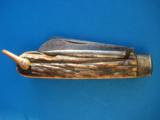 A beautiful Sailors or Seamans folding knife made by the famous English cutlery firm of Joseph Allen & Son's Sheffield. The blade has the NON XLL mark with the Sheffield address which dates it
...Click for more info
Seller: Jacob Hranowskyj
Area Code: 804
$425.00