Featured Gun Classifieds Browning Belgium Pistols - Renaissance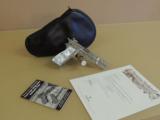 SALE PENDING..........................................................................................................BROWNING RENAISSANCE HI POWER 9MM PISTOL IN POUCH, ADJUSTABLE REAR SIGHT MODEL, BE
...Click for more info
Seller: Mike Bishop LLC
Area Code: 229
$3,699.00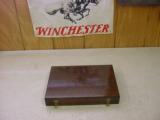 4391 Browning HI Power RENAISSANCE 3 pistol set in case. 9mm, 380cal,25acp,full coverage scroll engraving, all 3 have fine bead blasted matte grey refinish over scattered areas of pitting,bore spots o
...Click for more info
Seller: dawsonsdoubles
Area Code: 210
$2,995.00
Browning Belgium Pistols - Renaissance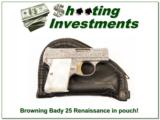 This is a Belgium made and engraved 25 Auto Renaissance. It comes with factory Browning pouch and looks to have never fired more than a few rounds. One small spot that is hard to see keeps it from bei
...Click for more info
Seller: barrybrowning
Area Code: 919
$1,799.00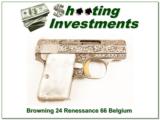 Collectors, this Browning 25 Auto Renaissance. It was made in Belgium in 1966 and is in excellent collector condition. Shipping and insurance is $40. Please email me with any questions or larger pictu
...Click for more info
Seller: barrybrowning
Area Code: 919
$2,399.00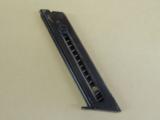 SALE PENDING.....................................................................................................................................BROWNING MEDALIST .22LR FACTORY MAGAZINE ONLY. EXCELLEN
...Click for more info
Seller: Mike Bishop LLC
Area Code: 229
$60.00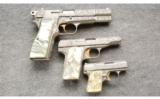 This is a hard to find Browning Renaissance set of pistols. The set comes with a 9 MM High Power, a .380 ACP and a .25 ACP pistol. None of the pistols look to have been fired since leaving the factory
...Click for more info
Seller: Cabelas Owatonna
Area Code: 507
$8,999.97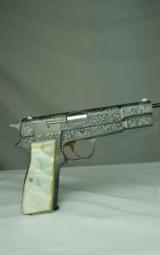 Here is a Browning Renaissance in the popular 9MM. This gun is possiblly unfired. Comes with original pouch. Slight wear to inside of pouch as shown. Shipping is $90. For inquiries please call Guy
...Click for more info
Seller: A-Coin and Stamp Gallery Inc
Area Code: 407
$2,595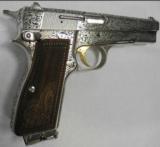 BROWNING GP VIGILANT RENAISSANCE SILVER 9MM BROWNING CUSTOM SHOP, MADE IN BELGIUM, NEW. HIGH CAPACITY. AVAILABLE WITH 10 OR 13 ROUNDS DEPENDING ON THE BUYER'S STATE LAW. DEEP ENGRAVING WIT
...Click for more info
Seller: Eurochasse
Area Code: 203
$5,450.00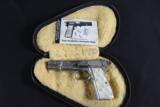 MADE IN BELGIUM IN 1964 WITH RING HAMMER. LIKE NEW AND ALL FACTORY. INCLUDES POUCH AND BOOKLET. GREAT PIECE TO ANY COLLECTION. PLEASE ADD $25 FOR SHIPPING. RETURN POLICY:&nb
...Click for more info
Seller: ART'S GUN SHOP
Area Code: 636
$3,700.00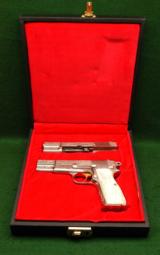 Browning Hi Power Renaissance Engraved Pistol Combo 9mm/.30 Luger Slides and barrels included 4 5/8" Barrels Factory display case included Made in Belgium Conditon: Excellent overall. Case inter
...Click for more info
Seller: NW Ponyexpress
Area Code: 208
$4,250.00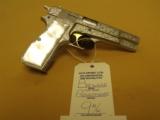 Seller: Gun Sport Ltd.
Area Code: 432
$5,995.00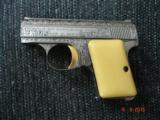 Just in from a collection a Browning Renaissance Baby .25ACP Semi-auto Pistol MFG 1957 Coin finish with Faux Ivory stocks. Mint over all Original condition. Comes complete in it Original Black Brownin
...Click for more info
Seller: R&G LLC
Area Code: 860
$2,199.00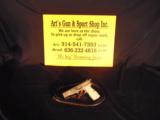 MADE IN BELGIUM IN 1964. LIKE NEW WITH POUCH AND ALL FACTORY. RING HAMMER. GREAT PIECE TO ANY COLLECTION. PLEASE ADD $40 FOR SHIPPING.
...Click for more info
Seller: ART'S GUN SHOP
Area Code: 636
$3,750.00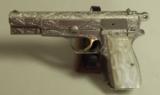 BROWNING RENAISSANCE, Three Gun Set, Semi Automatic Pistols: Baby .25 ACP, 380 ACP, & 9mm High Power. Highly Desirable collectors edition with factory engraving, Satin nickel finish, S
...Click for more info
Seller: Fieldsport LTD
Area Code: 231
$8,995