Featured Gun Classifieds Handguns - Multi Barrel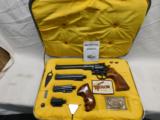 Dan Wesson 15-2 Pistol Pack,357 Magnum,4 VR Barrels 2-1\2''- 4"-6"-8",2 Grips 2 Extra Sights,Barrel Wrench,Dan Wesson Patch and Belt Buckle,Owners manual,Aluminum Fitted Hard ca
...Click for more info
Seller: Long Shot Inc
Area Code: 570
$2095.00
Handguns - Multi Barrel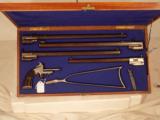 #1015A FRANK WESSON CASED SET, 4 sets of barrels; 16" 25 cal. smooth bore, 16" 22 cal. with exc. bore, 15" 25 cal. with VG bore, 12" in unknown cal., all barrels have sigh
...Click for more info
Seller: Jim Goergen
Area Code: 507
$8,500.00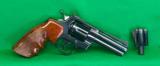 Early Python from 1969 with 4 inch barrel plus extra 2 1/2 inch barrel. After market grips. Original Colt high gloss blue finish on this package. minor blue wear on some sharp edges, overall near min
...Click for more info
Seller: Burnt River Trading Co.
Area Code: 503
$2998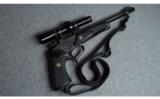 Seller: Cabelas Lexington
Area Code: 859
NOW: $1039.88 | WAS: $1,149.99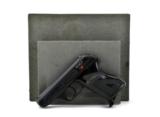 Heckler & Koch Model 4 .380/22LR/25acp/32ACP caliber pistol. Hard to find 4 barrel set in excellent condition with boxes and 1 magazine for each caliber. Seldom seen with all four calibers.
...Click for more info
Seller: Collectors Firearms
Area Code: 713
1,995.00
HIGH STANDARD SUPERMATIC TROPHY 107 series A beauty in 99 & 1/2% condition with 2 barrels. One is an 5 & 1/2" bull barrel and the other is an 7 & 1/4" fluted
...Click for more info
Seller: romsey
Area Code: 619
$1525- with free shipping in the lower USA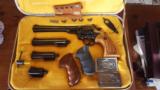 This Dan Wesson 15-2 pistol pack was manufactured in 1977 and is new in the case. It includes 4 barrels and shrouds, 3 grips, 2 belt buckles, 12 front sights( 4 in leather pouch) guages and assem
...Click for more info
Seller: PABobby
Area Code: 417
$3000.00 plus shipping