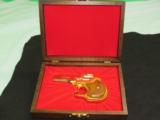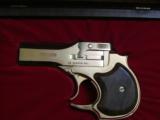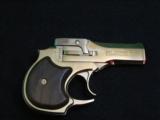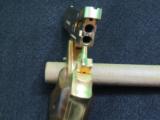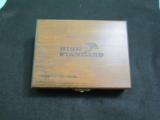 High Standard Derringer .22 Mag. RARE Gold Plated
Guns International #: 100644842 Seller's Inventory #:
Category: High Standard Pistols - Derringer Modern and Replica

Seller's Information
When emailing or calling sellers direct, please mention that you saw their listing on GunsInternational.com



Seller: waycon
Company: robinsons fine guns
Member Since: 1/28/11
State: Ohio
Country: United States
Phone: 513-726-4827
Platinum Seller
Number of Active Listings: 105
Total Number of Listings: 1692
Seller: FFL Dealer
Return Policy: 3 day inspection and return policy on used guns.
3 days
Payment Types Accepted: cash, certified check


Description:
High Standard 2 shot .22 Magnum " RARE" Gold plated Derringer in a wood presentation case. This little gun was made in 1978, and appears new unfired. Buyer pays $38.00 shipping!

Must ship to FFL Dealer. For more info. call Wayne at 513-515-4250 or 513-726-4827

Price: $650.00 + ship.