Featured Gun Classifieds Ithaca Pistols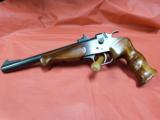 Ithaca's X-Caliber Pistol, chambered in .22 LR. with a 10" barrel. Looks New. #103 out of not many! $1200.00 (CC+3%) Shipping $20.00
...Click for more info
Seller: BUFFALO GUN CENTER
Area Code: 716
$1,200.00
Ithaca Pistols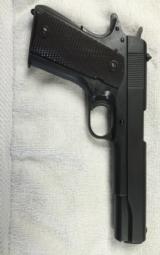 ITHACA Model M1911A1 U S Army 45 ACP - Marked on Left Hand of Slide: " ITHACA GUN CO. INC. ITHACA. N.Y. " - Marked on Left Hand Side of Frame UNITED STATES PROPRERTY M1911A1 U S ARMY
...Click for more info
Seller: Safari Supply
Area Code: 804
$2,495. OBO
Seller: Cabelas Grandville
Area Code: 616
$2,399.99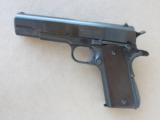 A early production Ithaca 1911A1, serial number 898xxx, manufactured at the beginning of 1943. Ithaca received the first government contract in late 1942, but in order to meet their production s
...Click for more info
Seller: Antique & Modern Firearms, Inc.
Area Code: 859
$2,950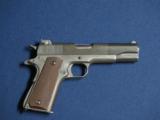 Ithaca 1911 A1 US Govt Colt military service model Ace 22 slide. SN 1,666,XXX. 97%. Excellent bore.
...Click for more info
Seller: Crosnoe Guns
Area Code: 573
$2,650.00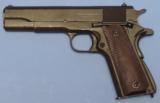 Inv. 5667 Ithaca U.S. Mdl. 1911 A1, Serial Number 12215XX. Not minty but a lovely example of one of the lesser known 1911 A1 contractors. The gun retains about 96-97% of the original Parkerizing
...Click for more info
Seller: The Yankee
Area Code: 201
$1,695.00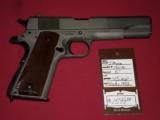 For sale, Ithaca 1911a1 .45 pistol. appears to have been arsenal refinished. with correct parts, HS bbl. Circa 1943. To see more of our inventory, visit deerhunter guns,com We accept MC, Visa and
...Click for more info
Seller: DEER HUNTER GUNS
Area Code: 727
$1,599.00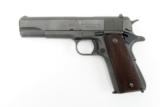 Ithaca 1911 A1 .45 ACP caliber pistol. Manufactured 1943 gun. Has correct "FJA" inspector mark on frame. Bore is excellent. Gun has some small spots of discoloration on slide. These are no
...Click for more info
Seller: Collectors Firearms
Area Code: 713
2,350.00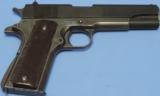 Inv. 5507 Ithaca, U.S. Model 1911 A1, Serial Number 18624XX. This big fellow at one time must have had its slide replaced. Or had one of the famous early non heat treated slides.
...Click for more info
Seller: The Yankee
Area Code: 201
$1,895.00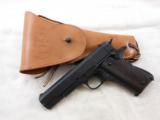 This Ithaca was made in 1945. The pistol's serial number is 2635626. This is an all original finish pistol that has not been through the post war arsenal reconditioning process. This pistol shows
...Click for more info
Seller: HLV Fine Guns
Area Code: 928
$2450.00 SOLD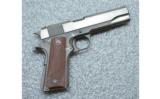 Seller: Cabelas Hazelwood
Area Code: 314
$2099.99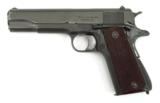 Ithaca M1911A1 .45 ACP caliber pistol. Manufactured 1943. FJA (Frank J. Artwood) inspected. Bore has good rifling with some frosting and corrosion in the grooves. Action works perfectly. Gun has 93-95
...Click for more info
Seller: Collectors Firearms
Area Code: 713
2,250.00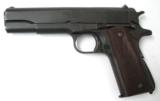 Ithaca 1911A1 .45 ACP caliber pistol. Manufactured approximately 1943. FJA Inspected. Excellent bore. Gun has good plus to very good finish with thinning on front gripstrap. Note: There is a pit area
...Click for more info
Seller: Collectors Firearms
Area Code: 713
1,895.00