Featured Gun Classifieds Ithaca Pistols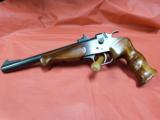 Ithaca's X-Caliber Pistol, chambered in .22 LR. with a 10" barrel. Looks New. #103 out of not many! $1200.00 (CC+3%) Shipping $20.00
...Click for more info
Seller: BUFFALO GUN CENTER
Area Code: 716
$1,200.00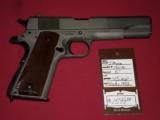 For sale, Ithaca 1911a1 .45 pistol. appears to have been arsenal refinished. with correct parts, HS bbl. Circa 1943. To see more of our inventory, visit deerhunter guns,com We accept MC, Visa and
...Click for more info
Seller: DEER HUNTER GUNS
Area Code: 727
$1,599.00
Ithaca Pistols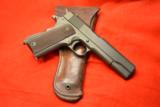 An exceptional 1911A1 45acp. pistol by the Ithaca Gun Company and refurbished by Springfield Armory with the RARE Augusta Arsenal marks (A A) complete and correct except for the magazine. Manufactured
...Click for more info
Seller: Old Centurion
Area Code: 352
$1650.00 or BEST OFFER! REDUCED PRICE!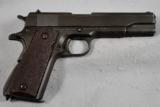 Ithaca, C&R, semi-automatic pistol, Model 1911-A1 U.S. Army, caliber .45 ACP, s/n 1218XXX (Mfg. 1943 during WW II),
...Click for more info
Seller: Maryland Arms Company
Area Code: 410
$2195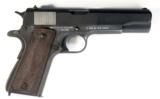 Inv. 5829 Ithaca U.S. Mdl. 1911A-1 (Colt) Cal. 45cp., Ser. 18539XX. As nice as it gets, this A-1 has 98-99% of the Parkerized finish remaining. There is some very slight ed
...Click for more info
Seller: The Yankee
Area Code: 201
$2,595.00
Seller: Cabelas Grandville
Area Code: 616
$2,399.99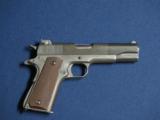 Ithaca 1911 A1 US Govt Colt military service model Ace 22 slide. SN 1,666,XXX. 97%. Excellent bore.
...Click for more info
Seller: Crosnoe Guns
Area Code: 573
$2,650.00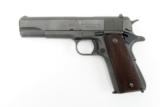 Ithaca 1911 A1 .45 ACP caliber pistol. Manufactured 1943 gun. Has correct "FJA" inspector mark on frame. Bore is excellent. Gun has some small spots of discoloration on slide. These are no
...Click for more info
Seller: Collectors Firearms
Area Code: 713
2,350.00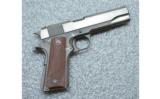 Seller: Cabelas Hazelwood
Area Code: 314
$2099.99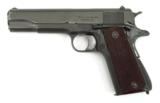 Ithaca M1911A1 .45 ACP caliber pistol. Manufactured 1943. FJA (Frank J. Artwood) inspected. Bore has good rifling with some frosting and corrosion in the grooves. Action works perfectly. Gun has 93-95
...Click for more info
Seller: Collectors Firearms
Area Code: 713
2,250.00