Featured Gun Classifieds Llama Pistols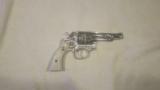 This is a fully engraved Llama revolver double action that is clean as they come. Looks rarely fired,will come with soft case. It has pearl like grips, no nicks,or scratches to the eye. Locks up tight
...Click for more info
Seller: Karpos Firearms and Ammo
Area Code: 610
$1,450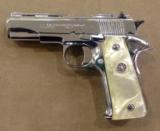 What a beautiful little Llama in .380 caliber with a perfect "Hard Chrome" finish. We have always liked these little Colt Gov't Model Miniatures which is basically what they are, a
...Click for more info
Seller: Ocala Armory
Area Code: 352
$650.00
Llama Pistols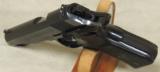 Llama MicroMax Ecuador Air Force Pistol .380 ACP Caliber 3 3/4" barrel 1911 style operation Bore is bright and shiny Slick action Great condition with some loss of
...Click for more info
Seller: Elephant & Castle Fine Arms
Area Code: 417
$695.00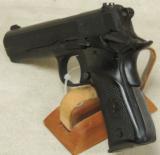 Llama Micromax Pistol .380 ACP caliber 3 1/2" barrel Iron sights Nice bakelite / plastic thumb rest grips Original box included One magazine Matte bluing is 9
...Click for more info
Seller: Elephant & Castle Fine Arms
Area Code: 417
$599.00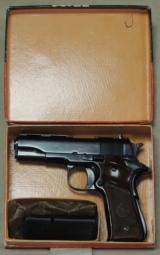 Llama Especial Pistol .380 ACP caliber 3 1/2" barrel Vent rib Iron sights Nice bakelite / plastic thumb rest grips Original box included Two magazines Bl
...Click for more info
Seller: Elephant & Castle Fine Arms
Area Code: 417
$649.00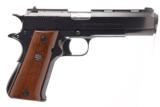 Gabilondo Llama .45 ACP Caliber SAO Semi Auto Pistol with 5 in. Bbl. This Llama .45 ACP is a Spanish copy of the Colt 1911 and is in good to very good condition, with jsut a freckling of rust
...Click for more info
Seller: Artemis Outfitters
Area Code: 302
$449.00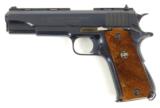 Llama Especial VII .38 Super caliber pistol. Rare .38 super deluxe model with vent rib on the slide in excellent condition.
...Click for more info
Seller: Collectors Firearms
Area Code: 713
$799.95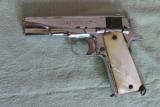 Llama Model Super Police .380 cal.,possibly an early nickel re-finish when imported, Mother of Pearl grips and mag. clean crisp bore, minor flecking around grip edges.
...Click for more info
Seller: Crowley
Area Code: 207
$775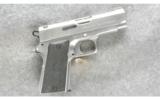 Seller: Cabelas La Vista
Area Code: 402
$499.99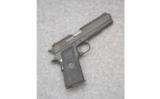 Seller: Cabelas Christiana
Area Code: 302
$499.99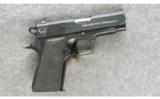 NOTE - of special interest, the pistol was manufactured for a contract that was canceled by the Jordanian Air Force
...Click for more info
Seller: Cabelas La Vista
Area Code: 402
$499.99
Llama Engraved MicroMax Pistol .380 caliber Vent rib Excellent overall condition Engraved slide Imported by Stoeger Made in the 1990's Nice action Bore is goo
...Click for more info
Seller: Elephant & Castle Fine Arms
Area Code: 417
$695.00
Llama MicroMax Pistol .380 ACP caliber 3 3/4" barrel Right side of slide has GABILONDO Y CIA.VITORIA(ESPANA) Matte vent rib 90% bluing Includes correct "Spain" marked&nbsp
...Click for more info
Seller: Elephant & Castle Fine Arms
Area Code: 417
$599.00