Sorry! You're too late.
The LLAMA MOD III .380 GI# 100629014 has been sold.
Click
here
to see what else is available by HOME TOWN GUNS.
View other listings in this category....
Llama Pistols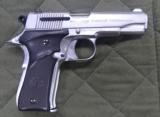 Seller: Dons Firearms Inc.
Area Code: 361
$285.00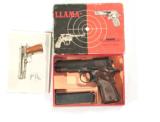 .32 caliber, 3 3/8" barrel, 1911 Colt design with both grip and manual safeties. Finished blue overall with brown checkered plastic grips. It is a miniaturized 1911 measuring a
...Click for more info
Seller: Caledonia
Area Code: 717
$695.00
Seller: Cabelas Cheektowaga
Area Code: 716
$469.99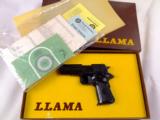 Here is a Mint Conditon Spanish made Llama IIIA .380 Small Frame 1911 Style Semi-Auto Pistol made in 1980. A mint collector condition pistol that was imported by Stoeger Industries. It's getting h
...Click for more info
Seller: gunsmoke101
Area Code: 505
Reduced $500.00 plus $25 Shipping and Handling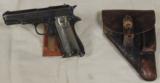 Llama Model 1 Pistol .32 caliber (7.65mm (32) marked) 3 3/4" barrel Imported to Nazi Germany during WWII by Gustav Genschow AG in Hamburg, noted by GECO stamp on left side of frame Made
...Click for more info
Seller: Elephant & Castle Fine Arms
Area Code: 417
$895.00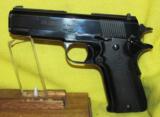 LlAMA VIII IN 9MM CAL., WITH 4" BARREL. COLOR BLUE. CONDITION 97%. SERIAL NUMBER B51833. LlAMA MODEL VIII, FIXED SIGHTS, BRIGHT SHINY BORE, COMES WITH ONE FACTORY MAGAZINE, GRIPS EXCELLENT, 97% O
...Click for more info
Seller: YANKEEARTIFACTS
Area Code: 508
$325.00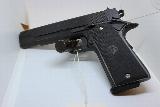 Seller: Gun Sport Ltd.
Area Code: 432
$449.95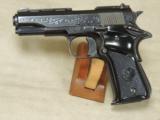 Llama Engraved Pistol .380 caliber Vent rib Excellent overall condition Engraved slide Imported by Stoeger Made in the 1990's Nice action Bore is good Hard plastic checkered gr
...Click for more info
Seller: Elephant & Castle Fine Arms
Area Code: 417
$695.00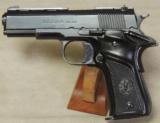 Llama Micro 1911 Pistol .380 ACP caliber 3 3/4" barrel Right side of slide has GABILONDO Y CIA.VITORIA(ESPANA) Matte vent rib 90% bluing Includes correct "Spain" marked&nb
...Click for more info
Seller: Elephant & Castle Fine Arms
Area Code: 417
$599.00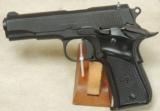 Llama Micromax Pistol .380 ACP caliber 3 1/2" barrel Iron sights Nice bakelite / plastic thumb rest grips Original box included One magazine Matte bluing is 98% Beautiful exampl
...Click for more info
Seller: Elephant & Castle Fine Arms
Area Code: 417
$599.00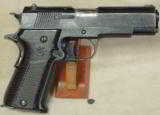 Llama 1911 Pistol 9mm caliber 4 1/4" barrel Made in 1994 Beaver tail and side safety Polymer checkered / logo grips Includes 1 single stack magazine Bore is bright Finish is 70%
...Click for more info
Seller: Elephant & Castle Fine Arms
Area Code: 417
$397.00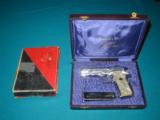 THIS IS A GEM AND A VERY RARE BIRD...SELDOM SEEN IN .22 , LET ALONE FACTORY ENGRAVED AND NICKEL, IT COMES WITH 2 ORIGINAL MAGS (NICKELED BOTTOM ON BOTH) , THE MATHCING NUMBERED BOX AND A FACTORY PRESE
...Click for more info
Seller: UNCLE
Area Code: 610
$1,200.00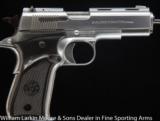 ID # 6361 Make LLAMA Model Small Frame 1911 Configuration Semi-Auto Pistol Gauge / Caliber. 380 acp Price $500.00 Serial # A71412 Country of Origin&nbs
...Click for more info
Seller: William Larkin Moore & Sons
Area Code: 480
$500.00