Featured Gun Classifieds Marble's Game Getter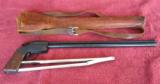 MARBLES, GAME GETTER, MODEL 1921, 18" BARRELS, MARKED "UPPER BARREL 22 S.L. LR & NRA & LOWER BARREL 410GA 2 1/2". 100% BLUE, MIRROR BORES. STRONG CASE COLOR ON
...Click for more info
Seller: Pat McKune
Area Code: 218
$3,200.00
Marble's Game Getter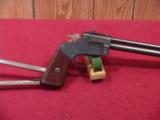 MARBLES GAME GETTER 1921 22-410 18" (NOT NFA) 98% BARREL AND RECEIVER, 98% WOOD, NICE ORIGINAL FOLDOING STOCK
...Click for more info
Seller: WILDWOOD INC
Area Code: 207
$3,250.00

1921 Marbles Game Getter in 22/410 with original holster in excellent condition. Barrels are legal 18 inches with bright bores, no wear or pitting evident. Original blue at 85%+, nice case colors on h
...Click for more info
Seller: jpwinchesters
Area Code: 540
$2,195.00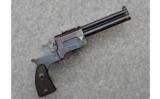 Marble Game Getter Model 1908 .22/44. This Game Getter Model 1908 is a ~Super Rare~ Game Getter! The barrel is a special order and measures 6 1/2 inches, and both barrel bores are rifled. The top barr
...Click for more info
Seller: Cabelas Boise
Area Code: 208
$1,999.99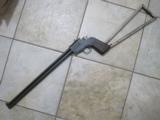 Marbles Gamegetter 1921 model 22 over 410. Legal 18" barrel, 15,xxx serial number.. Bores show excellent, some peppering on right side of reciever. Nice wood stocks. 30.00 to ship.
...Click for more info
Seller: jamned
Area Code: 989
$1,695.00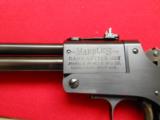 BORN ABOUT 1921, MARBLE;S GAME GETTER, OVER/UNDER, CAL. .22, SHORT,LONG, LONG RIFLE, OVER 44 gg, OR 410,2', OVERALL CONTITION IN AS NEW IN THE BOX [NO BOX], PERFECT !,18 " BARREL,INCLUDES A
...Click for more info
Seller: irish no 2
Area Code: 715
$2995.00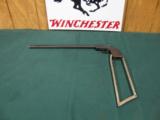 5147 Marbles GAME GETTER 22 long rifle over 44 Game Getter 44 shot or 410 gauge 2 inch shot shell, original stock attachment, 1921 mfg,these were made 1921-23. wood grips in excellent shape,bores are
...Click for more info
Seller: dawsonsdoubles
Area Code: 210
$1,495.00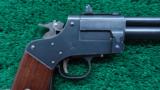 This is the 1921 version of the Game Getter with 18" bbls. Gun is in the typical upper bbl being 22 S, L and LR and the lower bbl in 44 GG and 410 2-1/2". This comes with a shoulder holster
...Click for more info
Seller: LeRoy Merz Antique Guns
Area Code: 218
$ 3,150.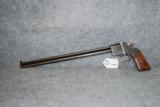 This is a Marbles Game Getter pistol that is .22 S,L,LR over .410 2" and .44 G.G. It was manufactured in 1921 is in roughy 65-70% condition. The blued finish has turned brown and has been worn ov
...Click for more info
Seller: Gcarms
Area Code: 918
$960.00

Marble Arms & Mfg Co Game Getter 1921 .410 Ga/.22 LR caliber rifle. Scarce Game Getter with holster. Excellent bores, 18"" barrels. Totally ATF legal length. 2nd type with nickeled folding stock.
...Click for more info
Seller: Collectors Firearms
Area Code: 713
2,995.00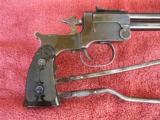 MARBLES GAME GETTER, MODEL 1908, 22 LONG RIFLE AND 44 CAL., 18" BARRELS, VERY GOOD BLUE, MIRROR BRIGHT BORES. ORIGINAL CHECKERED BAKELITE GRIPS, FOLDING SHOULDER STOCK. FUNCTIONS PERF
...Click for more info
Seller: Pat McKune
Area Code: 218
$2,250.00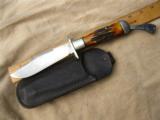 MARBLES FOLDING KNIFE, 5" BLADE, GORGEOUS STAG HANDLE, 5 PIN MODEL. CIRCA 1935-1940. EXCELLENT CONDITION WITH ORIGINAL SHEATH. $1150.00 + $15.00 insures shipping to a US add
...Click for more info
Seller: Pat McKune
Area Code: 218
$1,150.00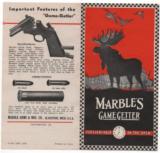 MARBLES GAME GETTER BROCHURE, 3 1/4" X 6 1/4", BI FOLD. DATED 1938, DEALS ONLY WITH THE MODEL 1921 GUN AND ACCESSORIES. MINT CONDITION, VERY SCARCE. $175.00 + $5.00 towar
...Click for more info
Seller: Pat McKune
Area Code: 218
$175.00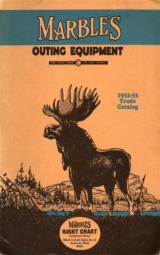 MARBLES CATALOG, 1932-33 TRADE, 8 1/2" X 11", 22 PAGES. FULLY ILLUSTRATED SHOWN ENTIRE PRODUCT LINE, ALSO DEALER OR STORE PROMOTIONAL ADVERTISING ITEMS. LAST CATALOG TO SHOW THE
...Click for more info
Seller: Pat McKune
Area Code: 218
$175.00