Muzzleloading Pistols - Modern & Replica Flint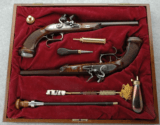 Cased set of mint condition Pedersoli Le Page Target Flintlock Pistols in .44 caliber. Original boxes, manuals and DVDs are included with each pistol. MSRP for just ONE of these Pedersoli
...Click for more info
Seller: KCEbel
Area Code: 904
$2039.99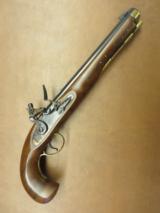 50 caliber has 10 1/4 inch octagon barrel with drift adjustable sights. Case colored flintlock. Non checkered wood stock with brass hardware. Wood ramrod. 98% condition, looks unfired but no box or pa
...Click for more info
Seller: Bromley's Gun Shop
Area Code: 641
$429.00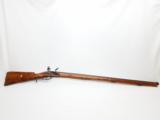 This 24 gauge/.54 caliber Lancaster Style Fowler has a browned tapered octagon 1" to 7/8" x 37" smooth bore-hook breach barrel. The P+ grade Maple stock is mounted with browne
...Click for more info
Seller: The Gun Works
Area Code: 541
$1475.00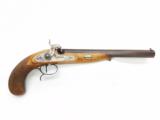 Condition: Very good - in box. Manufactured by: Waffenschmiede im Zeughaus Uberlingen, Germany Pieces: 1 Stock: European Walnut Barrel Length: 9-1/2in Caliber:
...Click for more info
Seller: The Gun Works
Area Code: 541
$1,250.00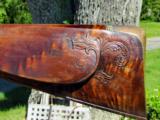 For sale is a Christian's Spring influenced longrifle made by Edward Wenger. The 38" Colerain swamped barrel is .54 caliber. The bore is excellent, bright and shiny. The early Germanic loc
...Click for more info
Seller: hkarl
Area Code: 781
$2,750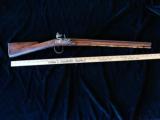 From a mid-west estate sale, a 45 cal. antique miniature boys rifle with a 19" half round half octagon barrel. The walnut full stock is in excellent condition with no cracks or chips (see photos).
...Click for more info
Seller: tlriver
Area Code: 816
$999.99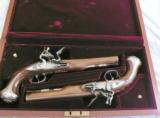 Commemorative pair of flintlock pistols owned by George Washington. Stunningly beautiful and housed in a large wooden presentation case. Museum quality and in near mint condition. Made in the e
...Click for more info
Seller: Granite State Arms
Area Code: 603
REDUCED to $1925