Muzzleloading Pistols - Modern & Replica Flint
Signed by contemporary builder Chris Hirsch, this well made Kentucky pistol is stocked in dark stained curly maple and trimmed in brass furniture. The brass furniture has a mellow aged patina and
...Click for more info
Seller: Track of the Wolf
Area Code: 763
$2699.00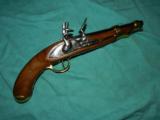 A belt hook on the left side for sea service these were also made for land use during the Rev War, with 9" barrel and a perfect smooth bore for a .71 cal . The metal parts are in the white as iss
...Click for more info
Seller: HOME TOWN GUNS
Area Code: 860
$475.00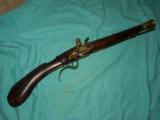 An unusual blunderbuss with a solid brass heavy barrel and brass lock-plate with an iron faced frizzen. Looks like this hard wood stock gun is a museum copy and not a shooting example as the breech pl
...Click for more info
Seller: HOME TOWN GUNS
Area Code: 860
$375.00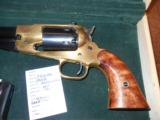 CONSIGNMENT PIETTA 1858 44 BLACK POWDER REVOLVER (CAP AND BALL). BRASS FRAME WOOD GRIP. 12 INCH BARREL. COMES WITH DISPLAY CASE AND 4 ADD. CYLD. &n
...Click for more info
Seller: DOMINIONOUTDOORS
Area Code: 540
$499.99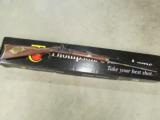 Muzzleloader is new unfired with the original box, has light handling marks here and there and has a custom aluminum ram-rod. Pictures are of exactly what you will receive, ready to ship. Buy it now!
...Click for more info
Seller: Elk County Ammo and Arms
Area Code: 814
$799.99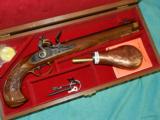 Cased set made by Ardesa for a presentation, includes a flint pistol, cleaning tools, ramrod, copper powder flask , this gun hasn't been fired.The hardwood case measures about 16 1/4"x7 1/2&q
...Click for more info
Seller: HOME TOWN GUNS
Area Code: 860
$650.00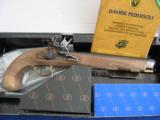 This Pedersoli Flintlock Pistol Kit is in .54 caliber, New In Box. The pistol comes pre-assembled from the factory and you could actually install the sights(included) and shoot it the way it is.
...Click for more info
Seller: The Second Amendment
Area Code: 434
$295.00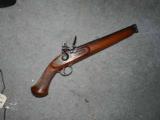 ABOUT NEW FANCY QUEEN ANNE FLINTLOCK .52 cal pistol with a 9 1/2" half octagonal barrel with a smooth bore, which has about 95% original blue with the top of the barrel chisel engraved!The loc
...Click for more info
Seller: HOME TOWN GUNS
Area Code: 860
$375.00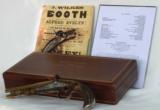 This is a beauifully made custom Kentucky Flintlock Pistol by master gunsmith and engraver Alvin A. White.. The pistol has a tapering two-stage half round, half octogan barrel, the flint lock ha
...Click for more info
Seller: Guntracker
Area Code: 765
4300.00 OBO