Sorry! You're too late.
The Polish Radom Model 1935 From Nazi Occupied Poland GI# 100653846 has been sold.
Click
here
to see what else is available by HLV Fine Guns.
View other listings in this category....
Radom Pistols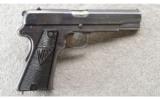 This is a very nice and high conditioned Radom P.35 9mm WWII pistol. This pistol was made after the invation of Poland and the plant was taken over by Germany. The blue is very strong with a minor scu
...Click for more info
Seller: Cabelas Owatonna
Area Code: 507
$1299.99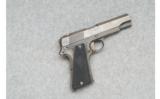 Seller: Cabelas Sun Prairie
Area Code: 608
$899.99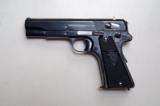 THIS IS A POLISH RADOM VIS 35 NAZI MARKED, 9MM. THE PISTOL IS IN COLLECTOR CONDITION. IT HAS BEEN COMPLETELY RESTORED. NUMBER MATCHING, VERY GOOD BORE AND GRIPS, MECHANICALLY CORRECT AND TIGHT. THEY D
...Click for more info
Seller: MISTERLUGER
Area Code: 717
$1,450.00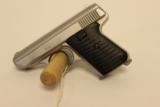 Seller: Gun Sport Ltd.
Area Code: 432
$149.95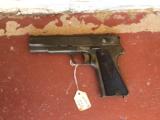 Radom 9mm Pistol in excellent condition. Will trade for gold or silver. Three day inspection and FFL required.
...Click for more info
Seller: j reed collectable firearms inc.
Area Code: 870
$750.00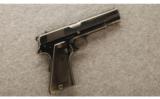 Seller: Cabelas Post Falls
Area Code: 208
$1,299.99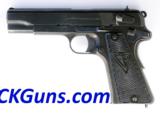 Inv. 6222 Polish Radom (Nazi) P-35 Cal. Ser. D 8868. It's hard to believe that this early "D" block high polish three lever went thru the war and stayed in this condi
...Click for more info
Seller: The Yankee
Area Code: 201
$1,895.00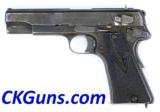 Inv. 6202 Polish (Nazi) Radom, P-35, Cal. 9mm, Ser. U 15567. What an unusual beauty this gun is. Radom P-35 was rated by military historians as one of the greatest handguns
...Click for more info
Seller: The Yankee
Area Code: 201
$1,595.00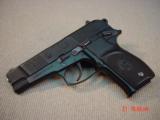 RADOM SEMI-AUTOMATIC PISTOL ... 9mm caliber ... DA/SA ... 4 1/2" barrel ... 8"L, 5 1/2"H, 1 5/8"W ... weight 32 oz ...1 x 15 round magazine ... square notch rear sight & w
...Click for more info
Seller: James Wayne Firearms
Area Code: 361
$339.99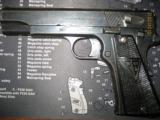 This P-35 is in great shape and has the decocker and the SS marks. The buyer must be familiar with all the laws governing the purchase and the ownership of firearms in their own city and state
...Click for more info
Seller: AvistaX
Area Code: 520
755.00 USD

CIMARRON 86/71 BOARBUSTER .45-70 19" BLUED WALNUT NIB #GSH905 CIMARRON 86/71 BOARBUSTER! CIMARRON 86/71 BOARBUSTER .45-70 19" BLUED WALNUT, OILED SATIN FINISH, .45-70 GOVERNMENT, MAG CAP 5
...Click for more info
Seller: United Sportsmen's Company
Area Code: 815
$1399.00