Sorry! You're too late.
The Seecamp 32 auto GI# 100453332 has been sold.
Click
here
to see what else is available by single shot49.
View other listings in this category....
Seecamp Pistols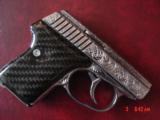 Here is a rare Seecamp LWS 380 that is a one of a kind work of art, that has been full coverage deep hand engraved & polished by Flannery Engraving July 30th 2017, in American Scroll with Batwing
...Click for more info
Seller: Bob Simpson FFL Dealer
Area Code: 727
$1,495.00
Seller: Cabelas West Chester
Area Code: 513
$549.99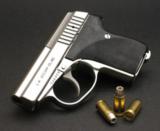 IN STOCK now! Weight No Mag.10.50 oz. Weight w/Empty Mag11.45 oz. Weight Fully Loaded Silvertips13.65 oz. Cartridge Capcity6 + 1 Caliber.380ACP Height3.25" Slide Width.725"
...Click for more info
Seller: Carolina Sporting Arms
Area Code: 704
$745.00
HAVE A FEW BRAND NEW IN BOX SEECAMP LWS380 STAINLESS PISTOLS GUNS ARE NEW UNFIRED IN ORIG BOXES CALL TO ORDER AT 401 738 1889
...Click for more info
Seller: D&L HUNTING
Area Code: 401
$719.99
HAVE 5 NEW SEECAMP LWS32 STAINLESS 32ACP NON MA/CA COMPLIANT GUN IS NEW UNFIRED IN ORIG BOX CALL TO ORDER AT 401 738 1889
...Click for more info
Seller: D&L HUNTING
Area Code: 401
$499.99
HAVE A NEW LW SEECAMP LWS 32 STAINLESS GUN IS MA/CA APPROVED [ COMPLIANT ] GUNS ARE NEW UNFIRED IN ORIG UNOPENED BOXES CALL TO ORDER AT 401 738 1889
...Click for more info
Seller: D&L HUNTING
Area Code: 401
$499.99