Sharps Pistols
Serial #6038, .22 RF, 2 1/2" barrel cluster with excellent, bright bores. This is a splendid little matching numbered pistol that has 90-95% of the original bright blue remaining on the barrels mixin
...Click for more info
Seller: Joe Salter
Area Code: 603
$1,995.00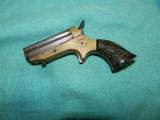 A 19th century Sharps four barrel derringer chambered for the .22 RF cartridge. The 2 1/2" barrels have good rifling and patches of shallow corrosion present, but will spin a bullet good! The bar
...Click for more info
Seller: HOME TOWN GUNS
Area Code: 860
$450.00
C.Sharps Model 1-C Pepperbox Pocket Pistol - Cal. .22 RF - 2 1/2" Bbl. - SN 24XXX(late 1860s-early 1870s) - all matching numbers. All 4 barrels are about perfect - bright with sharp rifling - act
...Click for more info
Seller: Digr4G
Area Code: 607
$1,495.00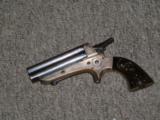 Tipping & Lawden Sharp's patent 4 barrel pepperbox. .30 Caliber rim fire. Excellent grips lots of nickel finish remaining on the brass frame with thinning blue on the barrels. Good bores. seri
...Click for more info
Seller: 960d
Area Code: 573
$850.00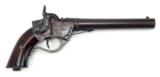 Sharps Breech Loading pistol. Very fine condition with excellent original barrel blue and very good blue on frame. Grips are very good with nice figure to them. Left hand grip has the initials "
...Click for more info
Seller: Collectors Firearms
Area Code: 713
9,850.00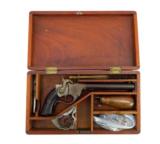 Cased Sharps Single Shot Pistol. Nice sharp gun with a mostly brown patina. Action works perfectly. Light pin point pitting is on the metal surface when closely observed. Bore is typical with scattere
...Click for more info
Seller: Collectors Firearms
Area Code: 713
5,750.00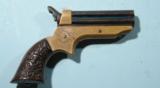 EXCELLENT C. SHARPS .22 CAL. MODEL NO. 1 PEPPERBOX DERINGER CIRCA 1865. All original and matching. 90% blue and beautiful mustard color, mellow brass frame. Floral embossed gutta percha grips. 100% or
...Click for more info
Seller: David Condon, Inc.
Area Code: 540
$950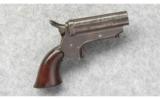 Seller: Cabelas Buda
Area Code: 512
$849.99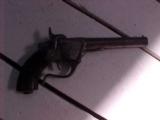 A very good plus Sharps First Model Drop Block pistol, in .34 caliber. Grips are varnished Walnut and are fine. All markings crisp and sharp. These are quite rare, since only 500 were produced T
...Click for more info
Seller: chemiker
Area Code: 936
$2,350.00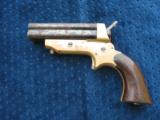 REDUCED PRICE,,,Antique Sharps derringer .30 caliber. Model 2. Standard 3" barrels. This is a very tight little Sharps 4 shot Derringer in .30 RF. Not a bad little Derringer that has had some poo
...Click for more info
Seller: Tom Boyer
Area Code: 765
WAS $595 NOW $495..
4 Barrel deringer in 30 cal, overall excellant condition. The grips have been repalced, I do have one original.
...Click for more info
Seller: bobsvintageguns
Area Code: 989
$1,195.00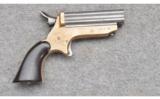 ://nramuseum/the-museum/the-galleries/the-american-west/case-43-the-stars-sixguns-frontier-justice/sharps-hankins-breechloading-pepperbox.aspx
...Click for more info
Seller: Cabelas Rogers
Area Code: 763
$959.99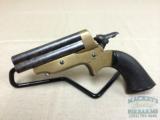 C. Sharps Pepperbox, four barrel cluster with a rotating hammer. Chambers .30 caliber rimfire cartridges through 3 inch barrels. Very good condition with a small chip on the bottom of the left grip pl
...Click for more info
Seller: Mackeys
Area Code: 252
$1,099.00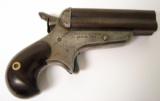 Sharps Model 4C derringer. Silver plated frame and blued barrels. Nice condition with over 50% of the original finish. Action works perfectly, but is missing the rotating firing pin. Grips have excell
...Click for more info
Seller: Collectors Firearms
Area Code: 713
$895.00