Sorry! You're too late.
The "Steyr 1911 9mm Steyr (PR27652) GI# 100508198 has been sold.
Click
here
to see what else is available by Collectors Firearms.
View other listings in this category....
Featured Gun Classifieds Steyr Pistols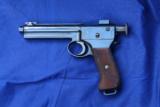 Rare Original Steyr Model 1907 WW1 Hungarian made (Budapest) Military Marked in excellent condition, but as you can see there is some wear and flaking. Original finish, NOT import marked (unlike the m
...Click for more info
Seller: yglk
Area Code: 847
$1,395.00
Steyr Pistols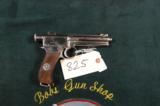 WAFFENFABRIK STEYR. ORIGINAL NICKEL PLATING AT ABOUT 70% ORIGINAL WOOD GRIPS AT ABOUT 70%. PISTOL IS USED. CHAMBERED FOR 9 MM. FULLY FUNCTIONAL. BORES IS IN EXCELLENT CONDITION.
...Click for more info
Seller: bobsvintageguns
Area Code: 989
$1,295.00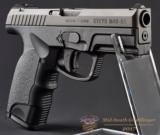 Presented for sale, you will find a Steyr Mannlicher M40-A1 chambered in 40 S&W. You will find this M40-A1 is fitted with Trilux triangle sights. This is a great pistol. The M40-81 has
...Click for more info
Seller: Mid-South GunSlinger
Area Code: 501
$495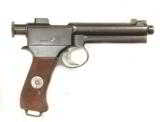 8mm Roth-Steyr caliber, 5.1" barrel, finished blue with checkered wood grips. Marked "Fegyuergyar Budapest" on the top of the barrel. Issued to the Austro-Hungarian Ar
...Click for more info
Seller: Caledonia
Area Code: 717
$1,950.00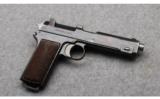 Seller: Cabelas East Hartford
Area Code: 860
$1,349.99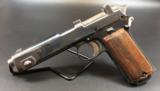 Steyr Hahn M1912 dated 1915 5.04" barrel chambered for the original 9mm Steyr, J series production with Austrian military markings. 8-round charger-loaded internal box magazine. Excellen
...Click for more info
Seller: DENVER GUN ROOM
Area Code: 303
$995.00

STEYR MANNLICHER PRO HUNTER STAINLESS, .30-06REM. BOLT ACTION RIFLE , 23.6" SWIRL STAINLESS BARREL,DIRECT TRIGGER, SBS-SYSTEM WITH THE THREE POSITION SAFETY, EXTREMELY DURABLE SYNTHETIC STOCK, L
...Click for more info
Seller: Eurochasse
Area Code: 203
$949.00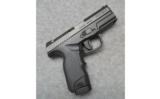 Seller: Cabelas Fort Mill
Area Code: 980
$549.99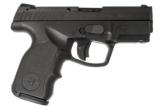 Steyr S40-A1 chambered in 40 S&W with a 4 inch barrel and a case. This gun is in excellent condition and is covered by Dury's Lifetime Warranty. WE BUY GUNS!NO COLLECTION TOO BIG OR SMALL
...Click for more info
Seller: DURY'S GUN SHOP
Area Code: 210
$399.99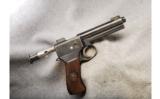 Seller: Cabelas Scarborough
Area Code: 207
1299.99 Now is $1099.88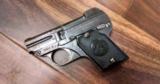 Steyr M1908 Comes with no Magazine. Caliber: .25 ACP Condition: USED Metal Condition: USED Wood Condition: USED Bore Condition: USED Finish: USED Book # : 15099 Price: $249.95 THE PRI
...Click for more info
Seller: StarQuest Shooters Supply
Area Code: 302
$249.95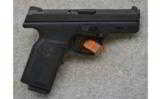 Seller: Cabelas Hamburg
Area Code: 610
$459.99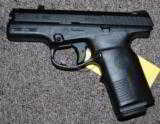 Steyr M40 chambered in 40S&W. Gun comes with 2 mags, box. Gun is used in very nice shape. Shipping $35.00.
...Click for more info
Seller: L&J Supply
Area Code: 610
$435.00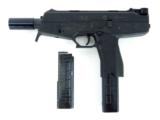 Steyr SPP 9mm caliber pistol. "Assault" pistol with 30 round magazine in excellent condition.
...Click for more info
Seller: Collectors Firearms
Area Code: 713
$895.00