Featured Gun Classifieds .44 Russian Revolvers
This is a SMITH & WESSON,New Model #3, or Referred to as a, "NEW MODEL RUSSIAN, with a 6 1/2" Barrel, Excellent Bore, Nice Original Grips, Lanyard Ring, all Proper Markings, Mechanically
...Click for more info
Seller: Shooters Exchange
Area Code: 828
$2999.00
.44 Russian Revolvers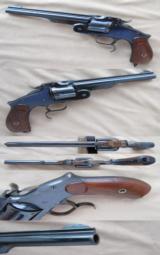 Sometimes referred to as the Model 3 Russian, this gun was manufactured between 1874 and 1878 and was offered in both.44 Russian centerfire and .44 Henry rimfire calibers. This gun in .44 Russia
...Click for more info
Seller: Antique & Modern Firearms, Inc.
Area Code: 859
$6,950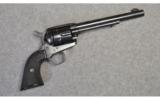 Seller: Cabelas Hazelwood
Area Code: 314
$2999.99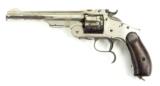 Smith & Wesson Old Model Russian .44 Russian caliber revolver. Action works perfectly and bore is about very good. Gun shows some holster wear on the left side of the barrel and on one side of the
...Click for more info
Seller: Collectors Firearms
Area Code: 713
3,950.00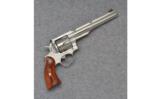 Seller: Cabelas Christiana
Area Code: 302
$799.99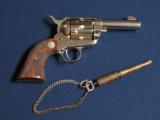 Colt SAA Sheriffs Model 44 Russian. Nickel. 3 1/2 barrel. SN 348,XXX. 98-99%. Checkered grips. With wooded ejector rod. No Factory record on this SN. Probably lunch box gun.
...Click for more info
Seller: Crosnoe Guns
Area Code: 573
$19,500.00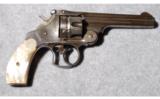 From the collection of Gary Burghoff, the actor who portrayed "Radar O'Reilly on the hit TV show M.A.S.H:This S&W revolver is 1 of 1000 made for the Russian government in 1882. It shows e
...Click for more info
Seller: Cabelas Rapid City
Area Code: 605
$4,599.99
Colt Bisley Flat Top .44 Russian caliber revolver. Manufactured 1905. Comes with factory letter. Letters as you see it. Sold to Schoverling Daly and Gales New York and shipped to Colt's London a
...Click for more info
Seller: Collectors Firearms
Area Code: 713
17,500.00