.44 Russian Revolvers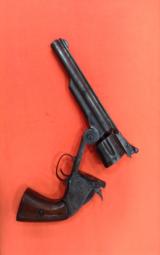 Model # 3. Second model. Made 1872-1874. At 10% books for $1900. Does not cock and shows considerable wear. Still probably in 20-30 % condition.
...Click for more info
Seller: Drjfive
Area Code: 573
$1250.00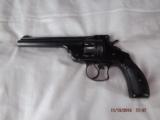 Serial number 29312 was made in 1894. Chambered in 44 Russian caliber. 6" barrel. Bore is great with strong rifling. Gun retains about 85% of it's bright blue finish. Sent back to the factory
...Click for more info
Seller: David Bushing LTD
Area Code: 773
$2,695.00
This is a very nice S&W Model 3 in .44 Russian caliber. Manufactured by "LUDW. LOEWE & Co. WAFFEN - & MUNITIONS - FABRIK. BERLIN. No.128". The serial number is #128.
...Click for more info
Seller: Vintage Antique Weapons
Area Code: 541
$7,950.00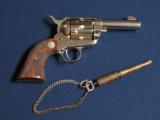 Colt SAA Sheriffs Model 44 Russian. Nickel. 3 1/2 barrel. SN 348,XXX. 98-99%. Checkered grips. With wooded ejector rod. No Factory record on this SN. Probably lunch box gun.
...Click for more info
Seller: Crosnoe Guns
Area Code: 573
$19,500.00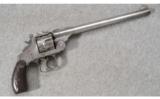 From the collection of Gary Burghoff, the actor who portrayed "Radar O'Reilly on the hit TV show M.A.S.H: This unusual example from Smith & Wesson features a 10 1/
...Click for more info
Seller: Cabelas Dundee
Area Code: 734
$999.99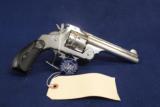 Holiday Special: Free Shipping and No Credit Card Fees Till 01/01/2016 Fantastic Smith and Wesson New Model Navy #3 .44 S&W Russian cal. Double Action 96%or better original nickel remaining. Excel
...Click for more info
Seller: Vintage Arms of Illinois
Area Code: 847
$3,150.00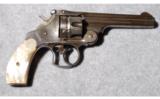 From the collection of Gary Burghoff, the actor who portrayed "Radar O'Reilly on the hit TV show M.A.S.H:This S&W revolver is 1 of 1000 made for the Russian government in 1882. It shows e
...Click for more info
Seller: Cabelas Rapid City
Area Code: 605
$4,149.88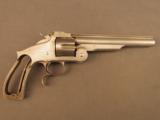 NSN, .44 Russian, 7" barrel with a fine, bright bore that has some minor freckling within the grooves. This mechanically complete, soft steel, 2nd Model Russian revolver is in the white with visible
...Click for more info
Seller: Joe Salter
Area Code: 603
$14,995.00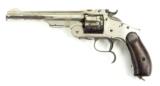 Smith & Wesson Old Model Russian .44 Russian caliber revolver. Action works perfectly and bore is about very good. Gun shows some holster wear on the left side of the barrel and on one side of the
...Click for more info
Seller: Collectors Firearms
Area Code: 713
3,950.00
Colt Bisley Flat Top .44 Russian caliber revolver. Manufactured 1905. Comes with factory letter. Letters as you see it. Sold to Schoverling Daly and Gales New York and shipped to Colt's London a
...Click for more info
Seller: Collectors Firearms
Area Code: 713
17,500.00