Benchrest and Target Revolvers - Rimfire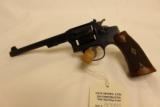 .22 LR 6" barrel with an excellent bore/ The metal surfaces retain about 98% original blue with high edge wear, turn ring on the cylinder, a few pinprick pits, and light handling marks. &nbs
...Click for more info
Seller: Gun Sport Ltd.
Area Code: 432
$1,595.00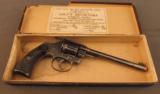 S# 1379, 22 WRF, six inch barrel, fair bore with worn rifling and erosion. This 1910 (First Year) manufactured revolver remains in good condition showing 50% blue finish with grip straps, barrel sid
...Click for more info
Seller: Joe Salter
Area Code: 603
$665.00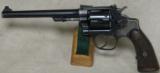 Smith & Wesson Model 22/32 Target Hand Ejector Revolver .22 LR caliber 6" barrel This is the standard model patterned after the Bekeart model Target front and target adjustabl
...Click for more info
Seller: Elephant & Castle Fine Arms
Area Code: 417
$795.00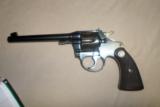 A very collectible S&W !!!This Gun is in Very Good + Condition w/ 6" BBL, Excellent Bore, Hard To Find This Nice!!
...Click for more info
Seller: huntsmith
Area Code: 850
New Price !!! $825
Seller: Cabelas Hamburg
Area Code: 610
$599.99
Taurus, 992, .22/.22 mag revolver, good condition, box and holster included. Gun shots very well, holster wear on end of barrel. Overall condition good.
...Click for more info
Seller: Woody47
Area Code: 870
$425.00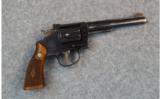 Here is a Smith & Wesson Model K-22 Woodsman in caliber .22 Long Rifle. The firearm shows wear and fading on the barrel, but the action is still crisp for it's age. The bluing from holster wea
...Click for more info
Seller: Cabelas Oklahoma City
Area Code: 405
$1,099.99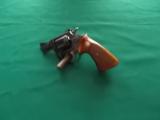 Seller: Charlie Hancock
Area Code: 731
$950.00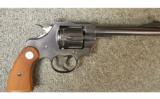 Seller: Cabelas Grandville
Area Code: 616
$1479.99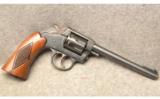 Seller: Cabelas Cheektowaga
Area Code: 716
$249.99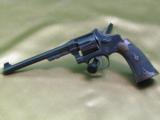 Smith & Wesson .22/.32 hand ejector revolver in .22 cal. target with 6" barrel Circa 1930 Has diamond grips. Gun is in good condition, with a small crack in right grip. This gun is sometimes
...Click for more info
Seller: waycon
Area Code: 513
$1750.00 + Ship.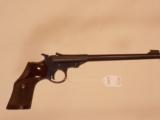 WEBLEY & SCOTT 22 LR TARGET PISTOL, 10" bbl., SN N32XX, adj. rear sight for elevation & windage, adj. blade front sight, checkered Bake-a-lite target grips, checkered trigger & lever,
...Click for more info
Seller: Jim Goergen
Area Code: 507
$1250
Colt Officers Model Match .22 lr 6" bbl- Fifth Issue Nice Vintage Target Revolver This is a used Colt Officers Model Match 6-shot .22 lr, 6" heavy barrel, wide hammer & target grips. N
...Click for more info
Seller: United Sportsmen's Company
Area Code: 815
$1,099.00
This nice 99 year old Colt Police Positive Target model is a nice little revolver. The firearm is in .22 W.R.F. and has a vary nice bore. There is bue wear and spotting but still quite nice.
...Click for more info
Seller: Cabelas Owatonna
Area Code: 507
Was $899.99 Now $679.66