Featured Gun Classifieds Handguns - French Revolvers
Taking orders on the Manurhin MR73, .357, wood grips, NIB with all paperwork & tools for future delivery. I have 3", 4", 5.25", 6" models on order. &nb
...Click for more info
Seller: Kebco
Area Code: 301
$2,700.00
Handguns - French Revolvers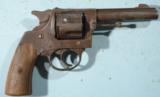 WW1 OR WWI SPANISH / FRENCH MODEL 1915 OR M1915 8MM DOUBLE ACTION MILITARY REVOLVER. Serial number "99X". '1915" on top of 4 3/8" barrel. Asterisk over AE on left frame under c
...Click for more info
Seller: David Condon, Inc.
Area Code: 540
$125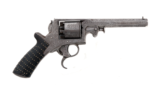 Barrel length: 6 Finish: Coin Lop: NA Lbs: |/22| Ozs: 8 Overall condition: Good Stock condition: Good Metal condition: Good Stock:Original Meta
...Click for more info
Seller: Griffin & Howe
Area Code: 908
$3,800.00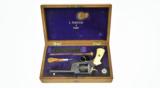 Very rare French Levaux revolver by E. Pertuiset. Very interesting gun! Gun is very fine condition with 90% of the original blue. Gun is highly engraved and has gold inlays on the cylinder. The right
...Click for more info
Seller: Collectors Firearms
Area Code: 713
4,995.00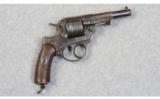 Seller: Cabelas West Chester
Area Code: 513
Was $459.66, Now$419.66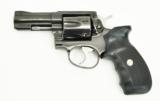 Manurhin MR88D .357 Magnum caliber revolver. Rare French made revolver, 3" combat model in very good condition.
...Click for more info
Seller: Collectors Firearms
Area Code: 713
1,495.00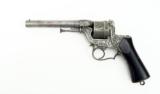 Scarce Perrin Revolver model in 1859. Very interesting French gun decorated with etched metal. Double action that has a safety bar allowing for the gun to safely be carried. Gun is completely function
...Click for more info
Seller: Collectors Firearms
Area Code: 713
2,750.00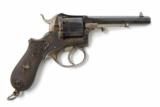 French Pinfire 9mm caliber revolver. Very fine revolver with about 90% fine original high polish blue. Gorgeous grips. This is a quality French Pinfire. Unmarked as to maker. Barrel length 5"". Overal
...Click for more info
Seller: Collectors Firearms
Area Code: 713
1,175.00
Seller: Cabelas Scarborough
Area Code: 207
Was $399.66 Now is $99.66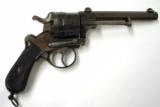 French 12MM Centerfire large frame revolver. Very good plus bore. Gun is double action and works perfectly. Grips are excellent. Gun has English proofs and no other markings except for serial #874. Gu
...Click for more info
Seller: Collectors Firearms
Area Code: 713
1,495.00