Pairs of Revolvers - Antique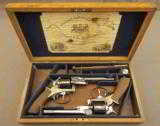 Serial #639 and 827, .442 Webley, 6" barrels with very good bores that have some dark freckling within the grooves. This is an attractive set comprised of two solid frame Webleys, both retailer marke
...Click for more info
Seller: Joe Salter
Area Code: 603
$4,795.00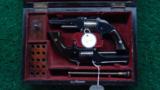 These guns are in absolutely outstanding condition. Beautifully fitting Rosewood grips in excellent condition. One gun has 30-40% blue on the cylinder and is flaked and left the cylinder looking a blu
...Click for more info
Seller: LeRoy Merz Antique Guns
Area Code: 218
$ 6,500.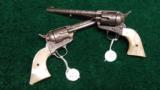 Cal 45. Elaborately engraved by Helfriech I believe. Beautifully done. Complete with matched Mother of Pearl carved grips with a buffalo on the left of one and right of the other. A lady is carved on
...Click for more info
Seller: LeRoy Merz Antique Guns
Area Code: 218
$ 95,000.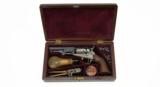 Colt Cased 1849 Pocket Model .31 caliber revolver. Very good plus condition with 95% blue on barrel. Cylinder has 100% cylinder scene. Grips have 95% original varnish. Comes with eagle flask in very g
...Click for more info
Seller: Collectors Firearms
Area Code: 713
4,500.00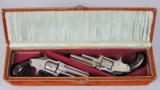 This is a cased pair of Marlin XXX Round Ribbed Barrel Short-Fluted cylinder, 5 shot 30 rimfire caliber. One retains 90% original nickel finish and the other 80% frame nickel and 65% barrel nickel. Th
...Click for more info
Seller: jamburn
Area Code: 707
$2,495.00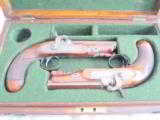 A handsome well made pair of percussion pistols made by PEGLER of Blandford ( in England I believe). They have .50 caliber octogon barrels with front and rear sights. &n
...Click for more info
Seller: romsey
Area Code: 619
$ 3250- + shipping