Remington Rimfire Handguns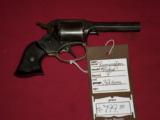 For sale, Remington Rider revolver, .32 RF. 3" bbl, excellent grips. To see more of our inventory, visit deerhunterguns,com No charge for Credit Cards No Sales to California. Like us on Fac
...Click for more info
Seller: DEER HUNTER GUNS
Area Code: 727
$799.00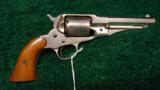 This is a conversion made for the 38 RF. It has a 5-shot cylinder with nickel finish. Most nickel remains. On the left side of the grip is a protruding stud that was made for a Bridgeport quick draw r
...Click for more info
Seller: LeRoy Merz Antique Guns
Area Code: 218
$ 3,150.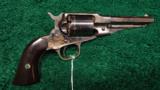 Converted to cal 38 RF. Overall gun appears to be virtually unused. The blue finish has some flaking but still 50-60% bright and glossy. A plum/brown patina in flaked area. Original ebony grips in fin
...Click for more info
Seller: LeRoy Merz Antique Guns
Area Code: 218
$ 3,250.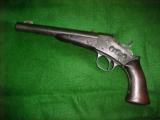 Serial #117, circa late 1880's. This is a very scarce variation of the 1871 Army single shot pistol. In 1887 Remington re-barrelled a few hundred of these 50 caliber pistols with 8&r
...Click for more info
Seller: Cobwebs
Area Code: 828
995.00 SHIPPED