Smith & Wesson Revolvers - 38/44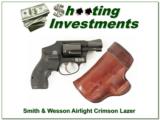 This is a Smith & Wesson Model 442 Airweight 38 Special with laser Crimson Trace grip. It is in excellent used condition and comes with leather holster as seen. I am selling this one on consignmen
...Click for more info
Seller: barrybrowning
Area Code: 919
$399.00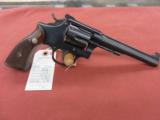 Smith & Wesson K-38 5 Screw, 38 Special, 6" barrel, 1947 mfg., matching number on the grips, standard hammer & trigger, excellent bore & action, 95% blue with more edge wear on the cy
...Click for more info
Seller: Schultheis Sporting Goods
Area Code: 607
725.00 + 35.00 shipping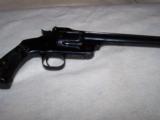 Approximate 2500 total production run. 3 didget serial #, 5XX. Action is good and tight. Scarce hard to find pistol in good shape.
...Click for more info
Seller: 09littlebear16
Area Code: 928
$2100 OBO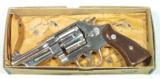 Smith & Wesson 38/44 Heavy Duty Revolver; SN S90089; this revolver was part of a 10 gun shipment of New Braunfels Police Revolvers shipped to Padgett Brothers, Dallas, Texas, on October 2, 1952; a
...Click for more info
Seller: Collecting Texas
Area Code: 254
$2975.00
Blue shows some edgewear with a few light use scuffs. Bore and chambers remain excellent. No box.
...Click for more info
Seller: Cabelas Wheeling
Area Code: 304
$2,399.99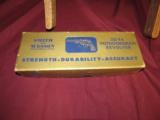 Smith and Wesson Model .38/44 Outdoorsman Model of 1950 Pre-Model-23. Untouched Factory 6.5 inch Blue Steel. The serial number of this example is S1230XX. Overall condition is excellent with 99% origi
...Click for more info
Seller: Winchester Way
Area Code: 760
$1,900.00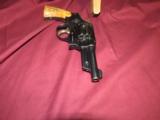 Smith and Wesson .38.44 Heavy Duty revolver. The serial number of this four inch example is S637XX placing date of manufacture in the early 1950's. This revolver is fitted with real Bone Handles p
...Click for more info
Seller: Winchester Way
Area Code: 760
$1,500.00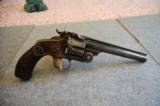 Smith and Wesson model 3 target model 38-44 Fairly tight old revolver, action works great tight lockup Bore is good, shiny with some roughness Grips are great but some what faded 30% blue, nice ol
...Click for more info
Seller: McBride's
Area Code: 417
$995.00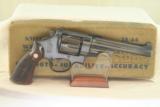 S&W Model 38/44 Outdoorsman Post-War Transitional. 38 Spl., 6 1/2" barrel. 96% blue with slight muzzle wear, excel bore. Gold box. Made in 1948. S/N S6977X C&R
...Click for more info
Seller: Aardvarkltd
Area Code: 978
$1,699.00