Smith & Wesson Revolvers - Model 53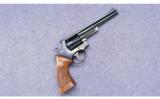 Blue shows a bit of wear at the muzzle with a couple light storage scuffs in the barrel blue. Bore and chambers remain excellent. Complete with box, manual and chamber inserts.
...Click for more info
Seller: Cabelas Wheeling
Area Code: 304
$1,799.99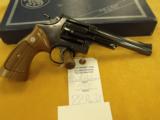 Seller: Gun Sport Ltd.
Area Code: 432
$2,195.00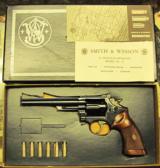 S&W 53 IN .22 REMINGTON JET/.2 WITH 6" BARREL. COLOR BLUE. CONDITION 98%. SERIAL NUMBER K446470. S&W MODEL 53, CALIBER .22 REMINGTON JET AND .22 L.R., PINNED BARREL, BRIGHT SHINNY BORE, D
...Click for more info
Seller: YANKEEARTIFACTS
Area Code: 508
$1,250.00
Smith & Wesson model 53 .22 jet 6" barrel with standard sights Case colored hammer and trigger Beautiful wooden grips No inserts Nice condition with a very little cylinder ring
...Click for more info
Seller: DENVER GUN ROOM
Area Code: 303
$1,025.00