Sorry! You're too late.
The NORIN - LaPOUR - HEILMANN (Dave - Ed & Steve) 270 FULL CUSTOM- REM. MOD 720 ACTION- NORIN CLASSIC STOCK- TOTAL LaPOUR METAL WORK GI# 100635309 has been sold.
Click
here
to see what else is available by Champlin.
View other listings in this category....
Featured Gun Classifieds American Custom Gunmakers Guild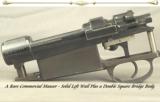 #112977, Mauser-Werke A.-G. Oberndorf A/N.: A Rare Standard Action with Their Solid Left Receiver Wall plus a Double Square Bridge Action, A Commercial Mauser Double Square Bridge Solid Left Receiver
...Click for more info
Seller: Champlin
Area Code: 580
$3,950.00
American Custom Gunmakers Guild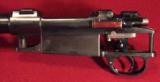 Oberndorf Mauser DSB standard length action manufactured in 1938 with solid left sidewall. Currently with sporter weight 7mm Remington Mag
...Click for more info
Seller: Dismal River Armory
Area Code: 308
$1895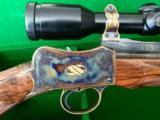 In the late 80"s and early 90's a wealthy patron of the gunsmithing arts set out to win the American Custom Gunmakers Guild's prize at their Vegas show. Like some people whose goal is to
...Click for more info
Seller: J Roberts US
Area Code: 540
12,500.00

Action shape highly refined and altered to ressemble an Alexander Henry rifle. Bolted lock, custom barrel contour, .450 3&14". I'm happy to finish the rifle if you so desire.
...Click for more info
Seller: Bertrams
Area Code: 303
4500 Reduced!