Sorry! You're too late.
The NORIN - LaPOUR - HEILMANN (Dave - Ed & Steve) 270 FULL CUSTOM- REM. MOD 720 ACTION- NORIN CLASSIC STOCK- TOTAL LaPOUR METAL WORK GI# 100635309 has been sold.
Click
here
to see what else is available by Champlin.
View other listings in this category....
Featured Gun Classifieds American Custom Gunmakers Guild Rifles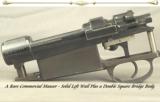 #112977, Mauser-Werke A.-G. Oberndorf A/N.: A Rare Standard Action with Their Solid Left Receiver Wall plus a Double Square Bridge Action, A Commercial Mauser Double Square Bridge Solid Left Receiver
...Click for more info
Seller: Champlin
Area Code: 580
$3,950.00
American Custom Gunmakers Guild Rifles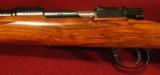 Full custom 7x57 Mauser with metal work by Al Valee and stocked by John Vest utilizing a Brno VZ33 action. This is the police issue eqivalent o
...Click for more info
Seller: Dismal River Armory
Area Code: 308
$4895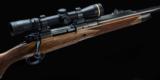 Custom Winchester Model 70 338-06 All Integral Krieger barrel, quarter rib, front banded sling swivel, banded front sight ramp Blackburn bottom metal Leupold Vari-X III scope in Talley double lever
...Click for more info
Seller: Presidentacgg
Area Code: 719
$11,200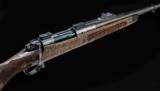 Custom Metal by Steve Nelson Fisher Round Bottom Metal Ebony Forearm Tip Leather Covered Pad 24" Barrel with Quarter Rib Custom Sights Bastogne from Steve Heilmann Rust Blue by Dave Norin
...Click for more info
Seller: Presidentacgg
Area Code: 719
$7900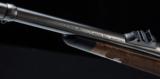 Custom Rear Tang Fisher Round Bottom Metal Ebony Forearm Tip Skeleton Butt Plate & Grip Cap Engraving by Brian Hochstrat Bastogne from Steve Heilmann Rust Blue by Dave Norin This custom rif
...Click for more info
Seller: Presidentacgg
Area Code: 719
$8600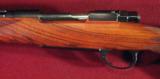 Dave Caboth of Alta, Iowa full custom VZ33 Mauser 30-06 with 23" half round/half octagon barrel with integral quarter rib with one st
...Click for more info
Seller: Dismal River Armory
Area Code: 308
$6495

Action shape highly refined and altered to ressemble an Alexander Henry rifle. Bolted lock, custom barrel contour, .450 3&14". I'm happy to finish the rifle if you so desire. More picture
...Click for more info
Seller: Bertrams
Area Code: 303
4500$