Featured Gun Classifieds Barrett Rifles

BARRETT M82A1 50BMG W/LEUPOLD, 29" FLUTTED BARREL WITH MUZZLE BRAKE, LEUPOLD MK 4 4.5-14X50 SCOPE, BARRETT RINGS, BIPODAND FITTED PELICAN HARDCASE. ONE MAG. S&H $ ACTUAL ADD 3% FOR CRED
...Click for more info
Seller: Sprague's Sports Inc.
Area Code: 180
$8,999.00
Barrett Rifles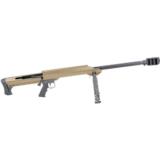 Selling a new Barrett model 99 .50 BMG 32" rifle. M1913 Steel optics rail (parallel with bore, 13.75'' long), unitized barrel and aluminum receiver, detachable bipod with adjustable
...Click for more info
Seller: Wild Indian
Area Code: 919
$3,699.95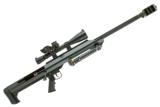 SINGLE SHOT LEUPOLD MARK 4 ER/T 30MM 8.5-25 MATTE FINISH MIL LONG RANGE SIDE FOCUS BARRETT OPTICAL RANGING SYSTEM EXCELLENT CONDITION
...Click for more info
Seller: Steve Barnett Fine Guns
Area Code: 662
$4,950.00
Seller: Cabelas Richfield
Area Code: 262
$4,599.99
Seller: Cabelas Allen
Area Code: 214
$14,999.99

HAVE A NEW BARRETT REC7 223/556 TACTICAL CARBINE GUN IS NEW UNFIRED IN ORIG CASE CALL TO ORDER AT 401 738 1889
...Click for more info
Seller: D&L HUNTING
Area Code: 401
$1,899.99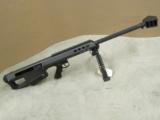 Brand new in box, buy it now! Pictures are of actual firearm! The Model 95 may weigh in at a smaller class, but packed into its lightweight bullpup design is the intense power of a .50 caliber maga
...Click for more info
Seller: Elk County Ammo and Arms
Area Code: 814
$5,999.99

Barrett MRAD chambered in .338 Lapua and is Brand new in box. Ready to follow your every move, the MRAD adapts to a variety of user needs without sacrificing performance. With
...Click for more info
Seller: The Firing Line
Area Code: 303
$5,995.00

Barrett - 82A1CAL - .50cal., 29" fluted barrel, paramilitary design with short recoil operating system, back-up iron sights, 10 shot fixed magazine, 32lbs., available for immediate delivery.
...Click for more info
Seller: Connecticut Shotgun
Area Code: 860
$10,500.00