Sorry! You're too late.
The Winchester Model 9422 "Boy Scouts of America" 22LR (LNIB) GI# 100649763 has been sold.
Click
here
to see what else is available by Jaqua's Fine Guns Inc.
View other listings in this category....
Boyscout Commemorative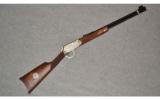 Seller: Cabelas Charleston
Area Code: 304
Was $1,799.99 Now $1,314.77

This is a Remington American Boy Scout Rolling Block chambered in 22 short. The 27-1/2" taperd round blued barrel is fitted with an adjustable dovetail flip up rear sight, and a dovetail front bl
...Click for more info
Seller: The Gun Works
Area Code: 541
1,850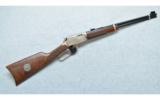 Seller: Cabelas Hazelwood
Area Code: 314
Was $1,599.99 Now $1,449.88

Winchester 9422XTR .22 SLLR caliber carbine. Boys Scout Commemorative. 1985 issue. Very desirable. Excellent condition with box.
...Click for more info
Seller: Collectors Firearms
Area Code: 713
1,599.95