Sorry! You're too late.
The Replica Naval Barge Breechloading Cannon 1.25 GI# 100452266 has been sold.
Click
here
to see what else is available by springfieldbob1.
View other listings in this category....
Cannons - Antique and Replica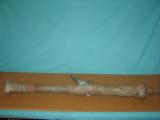 Portugese Lantaka Cannon, bronze swivel cannon, butterfly casting. 1600-1700s era. 47.25" overall length. Cannon allegedly is from the Philippines and was brough over within the last 50 years by
...Click for more info
Seller: Legendary Guns
Area Code: 602
$2500.00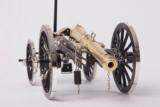 A sterling silver, African Blackwood and gilded 1/8 scale model of a Gribeauval 12 Pounder Cannon is attractively displayed on an ebony wooden base. It is part of a limited edition and is number 8 of
...Click for more info
Seller: Zane Palmer
Area Code:
$12000 excluding shipment and insurance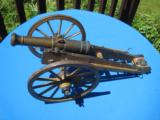 A fine antique superbly crafted model cannon styled after the U.S. Model 1841 Field Howitzer. I think this would either be a 1/4 or 1/6 scale. The cannon tube measures 10 1/2 inches and is about 65 ca
...Click for more info
Seller: Jacob Hranowskyj
Area Code: 804
$1,850.00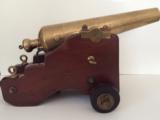 Fantastic and desirable early production Strong Yacht Signal cannon made in New Haven Connecticut at the turn-of-the-century. The Strong Cannon company made the most desirable and most expensiv
...Click for more info
Seller: FOXTROT SPORTING
Area Code: 315
$5900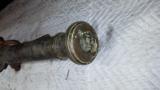 Seller: deepdivenw
Area Code: 805
5900.00 plus shipping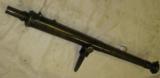 1700s Brass Lantaka Cannon Made of solid brass 3' 5" end to end Also called a swivel gun cannon Japanese markings Chrysanthemum on sight These cannons were cast by Dutch and Por
...Click for more info
Seller: Elephant & Castle Fine Arms
Area Code: 417
$3,495.00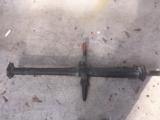 Seller: 68DEVILDOG
Area Code: 251
$2,500.00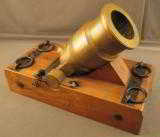 This is a half-scale version of a British 12-Pounder Coehorn Mortar and has an 11 1/4" long, slightly bell-shaped bronze tube with 3 5/8" bore (92mm; approx. 6-Pounder). The metal has a dull but attr
...Click for more info
Seller: Joe Salter
Area Code: 603
$1,795.00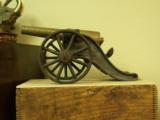 This little 12Ga cannon was used to start a 4th of July parade. It comes wiht it's original pine box.
...Click for more info
Seller: Gun Sport Ltd.
Area Code: 432
$5,495.00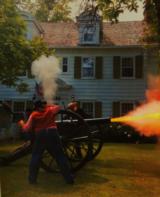 M 1861 3 Inch Ordnance Rifle, new 2011. Rifled barrel built by Historical Ordnance Works, GA. Paulson Brothers #1 field carriage. All implements included. Excellent condition and very accur
...Click for more info
Seller: richard olson
Area Code: 218
$16,950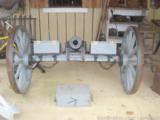 This is a Fully Mounted Revolutionary War Gilpin Howitzer. This gun was manufactured by Cannon Limited of Coolville, Ohio in 1984. They had the contract for all of the Canadian National Park Service g
...Click for more info
Seller: seccesh
Area Code: 251
$5,000.00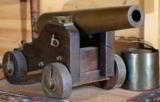 36 inch smoothbore bronze barrel with touch hole and integral trunnions; 4 1/4 inch diameter at muzzle; 6 5/16 inch diameter at breech. Mahogany naval carriage with bronze mountings and elevation scre
...Click for more info
Seller: Hallowell & Co.
Area Code: 406
$39,750.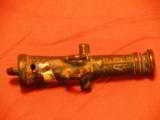 believe solid bronze, confirm Indian script on top of barrel, 2 carriage braces, 3 lanyard loops, 9 1/2 inches length, 5 pounds 0 ounces weight, 5/8 inch barrel bore, probably used aboard ship, purcha
...Click for more info
Seller: richkoury
Area Code: 816
$500.00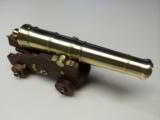 This cannon is a scale (1/13) replica of the famous 24-pounder used on the main gun deck of the U.S.S. Constitution "Old Ironsides". Barrel length is 9" and its largest dia
...Click for more info
Seller: Buchseman
Area Code: 414
$575.00