Cimarron Arms Rifles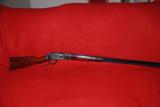 We have here a brand new in-the-box Cimarron 1873 Long Range Rifle in .45LC. Made by Uberti for Cimarron, this is a top quality rifle with very pretty walnut wood, color case hardened receiver, 30 inc
...Click for more info
Seller: ethompson
Area Code: 505
$1375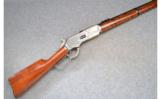 Wood shows some handling / use marks and left side of receiver has the typical mark where the saddle ring has rubbed. Blue and bore are excellent. A. Uberti (Italy) manufacture. Replica of
...Click for more info
Seller: Cabelas Wheeling
Area Code: 304
$1279.99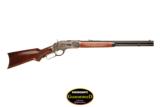 CIMARRON 1873 SHORT .357M 20"BARREL BLUE FINISH. WALNUT STOCK WITH PISTOL GRIP. FRONT SIGHTS: BLADE, REAR SIGHTS: ADJUSTABLE. OCTAGONAL BARREL Price: -1124.00- Caliber: -357- Brand
...Click for more info
Seller: United Sportsmen's Company
Area Code: 815
$1,124.00

Cimarron 1873 Texas Brush Popper chambered in .45 colt. Features include a 18" 1/2 Octagon 1/2 round barrel, adjustable rear sight, dove tailed front sight, straight grip walnut stock, crescent
...Click for more info
Seller: The Firing Line
Area Code: 303
$1,219.99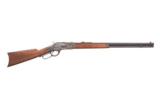 Cimarron Sporting Rifle Front - Blade Rear - Adjustable Sights This is a New Cimarron Sporting 45LC Rifle. The finish is blue with a walnut straight grip stock. Lever action. Butt plate is brass. Fe
...Click for more info
Seller: United Sportsmen's Company
Area Code: 815
$1,050.00
Cimarron Yellowboy Short Front - Blade Rear - Adjustable This is a New Cimarron Yellowboy Short 45LC Rifle. Finish is blue. Lever action. Stock is walnut straight grip. Features an octagonal barrel.
...Click for more info
Seller: United Sportsmen's Company
Area Code: 815
$984.00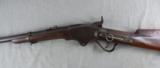 SPENCER MODEL 1865 CARBINE 50 CALIBER 14-146 Spencer Model 1865 Carbine 50 Caliber, 22" barrel, Standard markings on to
...Click for more info
Seller: Harley Wood
Area Code: 305
$2,400.00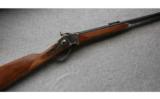 This Cimarron made by Uberti is in very nice condition. This reproduction of the 1874 sporting rifle looks quite nice.
...Click for more info
Seller: Cabelas Owatonna
Area Code: 507
$1,999.99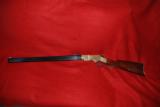 Way below retail! We have here a brand new in-the-box Cimarron 1860 Henry RIfle Civilian Model with 24 inch barrel in .44 WCF (.44-40). This is a very pretty rifle made by Uberti for Cimarron. Shippin
...Click for more info
Seller: ethompson
Area Code: 505
$1180