Featured Gun Classifieds Double Rifles - American

Unblooded hand-built full custom double nitro rifle with email from Ken confirming this is one of three extant. Beautiful wood and case-colored Greener bolt action. Owner never made it back to Africa
...Click for more info
Seller: doublegunhq
Area Code: 325
$16,500.00
Double Rifles - American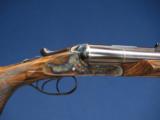 John Rigby & Co. Paso Robles CA Double rifle in 577 Nitro. Sidelock. Left hand cheek piece but right hand opener. 23 in barrels. Double triggers, automatic ejectors. Beavertail forearm. 2 fold dow
...Click for more info
Seller: Crosnoe Guns
Area Code: 573
$19,500.00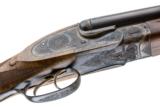 24" BARRELS WITH A 1/4 RIB AND 1 STANDING SIGHT DOUBLE TRIGGER EJECTORS SPLINTER FOREARM PISTOL GRIP TEST FIRED ONLY 10LBS 10 OZ X 14 1/4
...Click for more info
Seller: Steve Barnett Fine Guns
Area Code: 662
$17,500.00

Pennsylvania Percussion Double .45 caliber rifle with single set trigger. Lock marked ""Kelker & Bros. Harrisburg"". Barrels are 35 1/4"" long. Stock has a fine patchbox and there is an old repair
...Click for more info
Seller: Collectors Firearms
Area Code: 713
3,450.00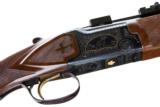 WE THAT THAT AERO MARINE IN BIRMINGHAM ALABAMA ORDERED 10 OF THESE THIS IS THE ONLY ONE THAT WE HAVE SEEN WITH BLUED RECEIVER AND GOLD WIRE THE SERIAL ON THIS ONE IS AMDR-5E 23 1/2" BARRELS WI
...Click for more info
Seller: Steve Barnett Fine Guns
Area Code: 662
$7,500.00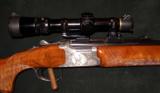 WINCHESTER DOUBLE XPRESS 7 X 57R O/U RIFLE, GAME SCENE WITH SCROLL ON COIN FINISHED ACTION, 23 1/2" BBL, QUARTER RIB, EJECTORS, SINGLE TRIGGER, FEATHERCROTCH WALNUT, PISTOL GRIP, FINGER GROOVE FO
...Click for more info
Seller: Safari Outfitters Ltd.
Area Code: 845
$4,350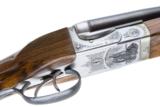 24" BARRELS WITH 1/4 RIB SIGHT 1 STANDING DOUBLE TRIGGERS EJECTORS SPLINTER FOREARM PISTOL GRIP EXCELLENT CONDITION WITH LIGHT WEAR 10LBS 14 OZ X 14 1/4 LOP
...Click for more info
Seller: Steve Barnett Fine Guns
Area Code: 662
$9,250.00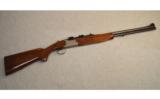 Firearms are subject to pending sales. • Replies to emails may take 24-72 hours to respond to (excluding weekends). • Although we strive for accuracy, we are not responsible for pictorial, e
...Click for more info
Seller: Cabelas Avon
Area Code: 440
$4,329.99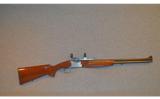 In 1984, Aero Marine located in Birmingham, AL, special ordered 200 deluxe double rifles in 7x57mm Mauser caliber. They featured better engraving and game scenes with bottom of receiver marked Jeager.
...Click for more info
Seller: Cabelas Short Pump
Area Code: 804
Was 3499.99 NOW 3258.88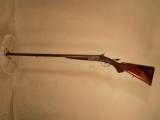 28" bbls., engraved with game scenes & tight scroll, both lockplates are marked "H. Sears & Comp.", top of bbl. marked "Henry Sears & Comp. Chicago Ill.", very int
...Click for more info
Seller: Jim Goergen
Area Code: 507
$6500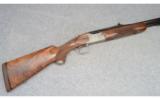 Seller: Cabelas Fort Worth
Area Code: 817
$4,499.99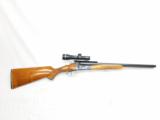 This double hammerless 40-70 Straight cartridge rifle has 19" tapered round blued barrels. A Tasco - Bantam 2.5 Power scope with Weaver mounts has been mounted on the matted rib. Stamped on the l
...Click for more info
Seller: The Gun Works
Area Code: 541
$1,375.00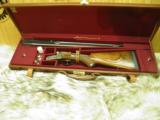 B. SEARCY & CO. CLASSIC MODEL DOUBLE RIFLE CALIBER "470" NITRO EXPRESS, BARRELS ARE 24", WITH A QUARTER RIB AND V NOTCH REAR SIGHT, DOUBLE TRIGGERS, EXHIBITION GRADE ENGLISH WA
...Click for more info
Seller: mikescustomshop
Area Code: 406
$19,999.00 XMAS SALE $18,999.00