Sorry! You're too late.
The BEATTIE & Co. 500 3" BPE- UNDERLEVER REBOUNDING HAMMER- EXC. COMPLETE REFINISH & RESTOCK- 27" STEEL Bbls.- EXC. BORES GI# 100640841 has been sold.
Click
here
to see what else is available by Champlin.
View other listings in this category....
Double Rifles - Antique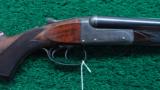 Cal 45-70. 28" bbls with near excellent bores, matted rib and sling eyes. Open field on the rib is marked "Wilkinson & Son Gun Maker to Her Majesty. Pall Mall London". This company
...Click for more info
Seller: LeRoy Merz Antique Guns
Area Code: 218
$ 8,500.

Johan Adam Kuchenreuter II Percussion Side by Side With Rifled Barrels. Very unusual as it is not the more often encountered "Buck and Ball" guns. In this very fine gun the right barrel is
...Click for more info
Seller: Collectors Firearms
Area Code: 713
9,500.00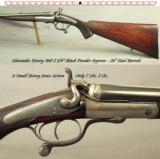 #5929, Alex'r Henry, Edinburgh and London: A Small Jones Action Underlever Back-Action Non-Rebounding Bolted Lock Hammer 360 2 1/4" Black Powder Express Double Rifle Made in 1890, It is with
...Click for more info
Seller: Champlin
Area Code: 580
$7,800.00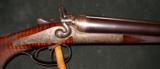 JP SAUER BACK ACTION SIDELOCK REBOUNDING HAMMER DBL RIFLE, 43 MAUSER CALIBER, 1894 MFG DATE, TIGHT SCROLL ON ACTION, 26" BBL, FULL LENGTH RIB, EXTRACTORS, DBL SET TRIGGERS, HIGHLY FIGURED MEDIUM
...Click for more info
Seller: Safari Outfitters Ltd.
Area Code: 845
$7,495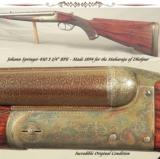 #8449, Joh. Springer, Erben In Wien: A superb 450 3 1/4" BPE Hammerless Toplever Boxlock Extractor Made for the HH Rana Nihal Singh the Maharaja of Dholpur in 1892 and delivered in 1894, 25 3/8&q
...Click for more info
Seller: Champlin
Area Code: 580
$12,500.00

#954A E. Anschutz Dbl. Percussion 50 cal. Rifle, 23" bbl., top of rib & also both lockplates are marked "E. Anschutz Phila.", open sights, original brass tipped ramrod, checkered fa
...Click for more info
Seller: Jim Goergen
Area Code: 507
$6950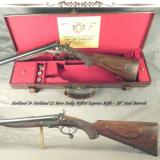 #4584, Holland & Holland, 98 New Bond Street, London; A superb Jones Action Underlever Back-Action Non-Rebounding Hammer 12 Bore Black Powder Express Double Rifle Completed by H&H on August 27
...Click for more info
Seller: Champlin
Area Code: 580
$15,800.00
Here is a beautiflul, rare, and unique British double rifle in superb condition. made C.1874. Gorgeous wood. Plenty of original case color remains on action and locks. 28in. lovely damascus barrels wi
...Click for more info
Seller: Thomas Oppel
Area Code: 406
$16000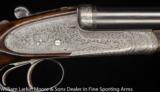 ID # 6365 Make Holland & Holland Model Royal Hammerless Express Configuration Double Rifle Gauge / Caliber .375 Express 2 1/2" Price $32,000.00 Seria
...Click for more info
Seller: William Larkin Moore & Sons
Area Code: 480
$32,000.00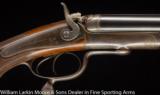 ID # 6356 Make Holland & Holland Model Back Action Hammer Express Configuration Double Rifle Gauge / Caliber .500 3 1/4\" BPE Price $15,000.00 Serial
...Click for more info
Seller: William Larkin Moore & Sons
Area Code: 480
$15,000.00

.52 caliber, deep strong rifling, one barrel with 6 groove rifling, one with 7 groove rifling, 27 1/4 inch barrels, 42 inches overall, both barrels have gold vents, nicely grained wood is both relief
...Click for more info
Seller: Pete Erickson
Area Code: 701
$5750.00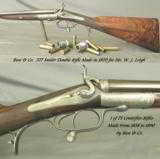 #2875, Boss & Co., 73 St. James's Street, London: A Very Rare and Very Unusual Boss .577 Snider Back Action Underlever Non-Rebounding Hammer Double Rifle that was Made in 1870 for W.J. Leigh,
...Click for more info
Seller: Champlin
Area Code: 580
$19,000.00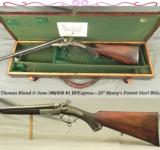 #9968, T. Bland & Sons, 106 Strand, London: A Thomas Bland & Sons 500/450 #1 Express Black Powder Henry Jones Hammer Underlever Double Rifle Made about 1889, 28" Henry's patent steel
...Click for more info
Seller: Champlin
Area Code: 580
$6,400.00