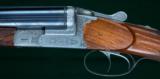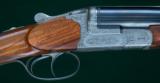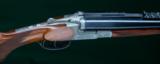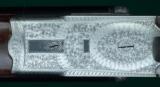 Josef Hambrusch, Ferlach --- Boxlock Ejector Double Rifle --- .500-450 3 1/4" Nitro Express
Guns International #: 100622871 Seller's Inventory #:
Category: Double Rifles - Double Rifles - Austrian

Seller's Information
When emailing or calling sellers direct, please mention that you saw their listing on GunsInternational.com



Seller: Hallowell & Co.
Company: Hallowell & Co.
Member Since: 3/16/07
First Name: Morris
Last Name: Hallowell
State: Montana
Zip: 59047
Country: United States
Phone: (406) 222-4770
Fax: (406) 222-4792
Number of Active Listings: 177
Total Number of Listings: 1005
Seller: FFL Dealer
Return Policy: 3 day inspection and return policy on used guns.
from arrival at receiving transfer dealer's location.
Payment Types Accepted: Bank checks & wire transfers; Personal & company checks after a week to clear.


Description:
24" SxS chopper-lump barrels of Bohler Rasant steel with ramp front sight, smooth concave rib, matted quarter rib, 1 standing and 3 folding silver-lined express sights, engraved for 50, 100, 150 and 200 meters. Fully figured European walnut stock with Deeley-release splinter forend, engraved steel trapdoor pistol grip cap, classic point-pattern checkering, beaded cheekpiece, vacant silver initial oval and solid red Pachmayr Old English recoil pad. Bolstered, fully scroll engraved, French-grey, Anson & Deeley boxlock action with intercepting sears, automatic ejectors, bushed firing pins with locking setscrews, Greener crossbolt, articulated front trigger, manual top tang safety and long tang triggerguard extending to the grip cap. Pull: 15". Weight: 11lbs, 4 1/2oz. Built 1985. Chambered to its current cartridge from .458 Win Mag. by Champlin Arms, whose name is engraved on the lower rib inside the forend in the same manner as the calibre on the top of the left barrel. 99% blue. Excellent bores.

Price: $9750.