Sorry! You're too late.
The ERNEST DUMOULIN 458- MAUSER ACTION- DEEP MAGAZINE- 1/4 RIB- EAW QD PIVOT MOUNTS- AFRICAN PROVEN GI# 100354153 has been sold.
Click
here
to see what else is available by Champlin.
View other listings in this category....
Dumoulin Rifles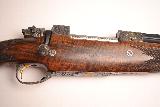 E. Dumoulin, Herstal, .505 Gibbs, 24" barrel, safari club gun, engraved by Philipe Griffnee, double square bridge mauser action ¼ rib, 3 leaf express sight, simply remarkable engraving, w
...Click for more info
Seller: Connecticut Shotgun
Area Code: 860
$43,000.00

This double rifle from this prestigious Belgian maker is truly a work of art. Exquisite engraving, craftsmanship, and balance. This fine rifle comes in its makers oak and leather case and is fitted
...Click for more info
Seller: Vintage Doubles
Area Code: 509
$26,000.00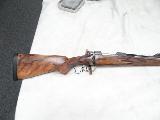 Dumoulin Deluxe grade bolt action big game rifle chambered in 375 H&H magnum. Long extractor mauser action. Beautiful full figure stock of dark grained walnut with fine hand checkering. Outst
...Click for more info
Seller: Bullseye Sporting Arms
Area Code: 805
$5000.00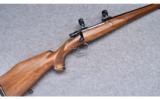 Blue shows a couple spots of old freckling and bore remains excellent. Wood has been sanded and refinished at some point. Complete with rings and bases.
...Click for more info
Seller: Cabelas Wheeling
Area Code: 304
$949.99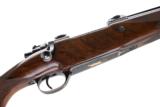 26" BARREL WITH FILE CUT 1/4 RIB 3 BLADE EXPRESS SIGHT AND HOODED FRONT FLIP SIGHT ENGRAVED STEEL BUTT PLATE AND PISTOL GRIP CAP ENGRAVED RECEIVER TOP AND BOTTOM AND FLOOR PLATE CLAW MOUNTS JEWEL
...Click for more info
Seller: Steve Barnett Fine Guns
Area Code: 662
$18,500.00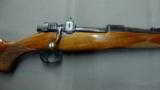 Seller: DENVER GUN ROOM
Area Code: 303
$650.00

E Dumoulin Sporter .300 Wby caliber rifle. Outstanding Belgian made Mauser action Sporter. The receiver, trigger guard, and floor plate have beautiful deep relief, sculpted engraving in an oak leaf mo
...Click for more info
Seller: Collectors Firearms
Area Code: 713
4,950.00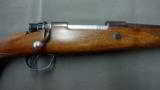 Seller: DENVER GUN ROOM
Area Code: 303
$720.00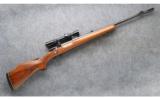 Seller: Cabelas Sidney
Area Code: 308
$1,099.99

Dumoulin - Mauser Carbine - .280 Rem caliber Item Number: DUM2677 Rifle type: Carbine Action: Bolt Action Barrel length: 20 Sights: Factory Sights Scope: R
...Click for more info
Seller: Griffin & Howe
Area Code: 973
$2995.00

H. Dumoulin - Safari - .375 H&H Mag caliber - Barrel length: 24 Sights: 1/4 Rib, Stand. Bar, Fold Leaves / Banded Front Si Mounts: Boch Swing Mounts Scope: Swarovski Model: Nova Power:
...Click for more info
Seller: Griffin & Howe
Area Code: 973
$4,800.00 - Reduced to $4,200.00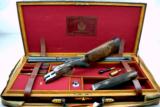 Ernest Dumoulin Model Pionnier Dangerous game double rifle 470ne caliber ... 27" barrels ... LOP 15 3/4" (front trigger) ... LOA 45" ... DAC 2" ... DAH 2 1/2" ... empty weight
...Click for more info
Seller: James Wayne Firearms
Area Code: 361
$32,500.00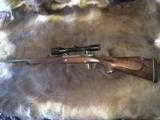 Seller: Zadeh
Area Code: 310
$ 6,750.00

Dumoulin .270 (Win) bolt-magazine sporting rifle, side-safety, hinged magazine-floorplate, figured stock fully-stocked to the muzzle with pistolgrip and pistolgrip-cap, cheek-piece, ventilated recoil-
...Click for more info
Seller: Five Hundred Guns
Area Code: 317
$1995.00