Sorry! You're too late.
The W.W. GREENER BIRMINGHAM ENGLAND GI# 100583350 has been sold.
Click
here
to see what else is available by winehunter.
View other listings in this category....
Greener, W.W. Rifles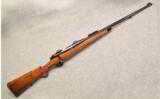 Seller: Cabelas Farmington
Area Code: 801
Was $3188.88 Now $2379.66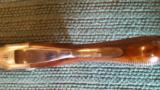 W.W. Greener. Model Lee Enfield Sporting rifle. Cal .303 British. 28" barrel. Often referred to as the Lee speed loader. This is an exquisite hand built sporting rifle. Sold to officers of the Br
...Click for more info
Seller: littlewolf
Area Code: 516
4,200.00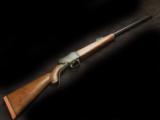 Custom conversion w new 23" Shaw fully rifled 12ga barrel rust blued, "GP" receiver with automatic safety, custom engraved and recolored. Restocked in strongly figured walnut, 14 3/4&qu
...Click for more info
Seller: doublegunhq
Area Code: 325
$2,250.00

WW Greener martini in 32-40 Win., 29" barrel with bright shiny bore. Original barrel blue is 90%, wood surface is original and also about 90%. Sling loops, horn forend cap and grip cap. Rea
...Click for more info
Seller: Jim Westberg
Area Code: 952
$3,550.00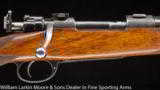 ID # 6244 Make WW GREENER Model Mauser Action Sporting Rifle Configuration Bolt Action Gauge / Calibe r.30-06 Price $5,500.00 Serial # 13474 Country of
...Click for more info
Seller: William Larkin Moore & Sons
Area Code: 480
$5,500.00

W.W. GREENER FARQUHARSON .500 NITRO EXPRESS SINGLE SHOT DANGEROUS GAME RIFLE. .500-3 INCH. Birmingham Nitro proofed 25" round barrel. Originally built 1890's and then rebuilt probably for th
...Click for more info
Seller: David Condon, Inc.
Area Code: 540
$16,000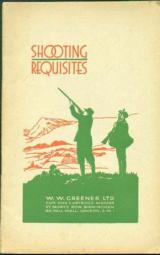 W W GREENER, CATALOG, "SHOOTING REQUIS". CATALOGUE OF GUN ACCESSORIES, 5 1/2" X 9", 28 PAGES. FULLY ILLUSTRATED, SOME VERY INTERESTING AND HIGHLY COLLECTABLE ITEMS SHOW
...Click for more info
Seller: Pat McKune
Area Code: 218
$75.00