Sorry! You're too late.
The W.W. GREENER BIRMINGHAM ENGLAND GI# 100583350 has been sold.
Click
here
to see what else is available by winehunter.
View other listings in this category....
Greener, W.W. Rifles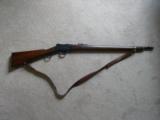 W.W. Greener Martini Rifle, .310 Cadet, all original, long range 200yd adj elevation rear ladder sight, excellent bore, receiver marked Greener Maker Birmingham, commonwealth of Australia, unaltered,
...Click for more info
Seller: Marks
Area Code: 585
$1,295.00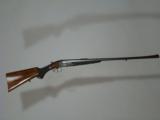 Beautiful UK restoration, sharp engraving, St. Ledger colors, sound wood, good bores, very slight darkening in the throat. Lovely rifle on a rare and desireable action. More pictures on bertrama
...Click for more info
Seller: Bertrams
Area Code: 303
17,500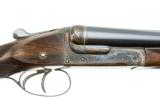 26" BARRELS WITH A 3 LEAF EXPRESS SIGHT DOUBLE TRIGGERS EJECTORS SPLINTER FOREARM PISTOL GRIP INLETTED ENGRAVED AND CHECKERED STEEL BUTT PLATE NEAR NEW ORIGINAL CONDITION 10LBS 8 OZ X 14 1/2
...Click for more info
Seller: Steve Barnett Fine Guns
Area Code: 662
$25,000.00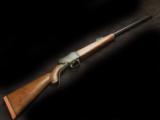 Custom conversion w new 23" Shaw fully rifled 12ga barrel rust blued, "GP" receiver with automatic safety, custom engraved and recolored. Restocked in strongly figured walnut, 14 3/4&qu
...Click for more info
Seller: doublegunhq
Area Code: 325
$2,250.00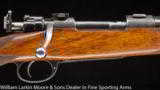 ID # 6244 Make WW GREENER Model Mauser Action Sporting Rifle Configuration Bolt Action Gauge / Calibe r.30-06 Price $5,500.00 Serial # 13474 Country of
...Click for more info
Seller: William Larkin Moore & Sons
Area Code: 480
$5,500.00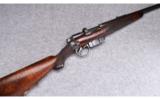 Barrel blue shows a bot of light old freckling. Bore is bright and excellent. Receiver and magazine are nicely engraved. Wood shows normal wear with some light use marks. Very unique showing Bri
...Click for more info
Seller: Cabelas Scarborough
Area Code: 207
$5,799.99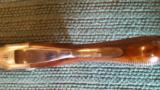 W.W. Greener. Model Lee Enfield Sporting rifle. Cal .303 British. 28" barrel. Often referred to as the Lee speed loader. This is an exquisite hand built sporting rifle. Sold to officers of the Br
...Click for more info
Seller: littlewolf
Area Code: 516
4,200.00

W.W. GREENER FARQUHARSON .500 NITRO EXPRESS SINGLE SHOT DANGEROUS GAME RIFLE. .500-3 INCH. Birmingham Nitro proofed 25" round barrel. Originally built 1890's and then rebuilt probably for th
...Click for more info
Seller: David Condon, Inc.
Area Code: 540
$16,000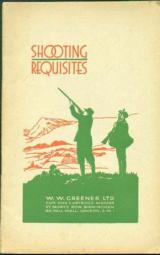 W W GREENER, CATALOG, "SHOOTING REQUIS". CATALOGUE OF GUN ACCESSORIES, 5 1/2" X 9", 28 PAGES. FULLY ILLUSTRATED, SOME VERY INTERESTING AND HIGHLY COLLECTABLE ITEMS SHOW
...Click for more info
Seller: Pat McKune
Area Code: 218
$75.00