Featured Gun Classifieds IMI Rifles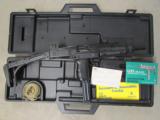 This is a lightly used with the box IMI/Action Arms Import UZI Model 45 Carbine with the 16" Chrome lined barrel. This firearm was imported between 1980-1989, judging by the 4-digit serial number
...Click for more info
Seller: Elk County Ammo and Arms
Area Code: 814
$2,299.99
IMI Rifles
Seller: Cabelas Grandville
Area Code: 616
$1,119.99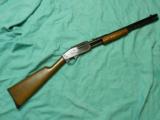 This fine TIMBER WOLF .357 PUMP ACTION RIFLE was built and sold through ISREALI MILITARY INDUSTRIES or IMI and are no longer made. The 18 1/2" round barrel has a crisp clean, shiny, rifled bore.
...Click for more info
Seller: HOME TOWN GUNS
Area Code: 860
$995.00

IMI Micro Galil AR (MAR) .223 built on a Russian Izhmash Saiga Receiver with a fake 9" suppressor permanently attached. Side folding stock, black synthetic pistol grip and forearm. Built by
...Click for more info
Seller: Backwoods Outfitters
Area Code: 717
$1,699.95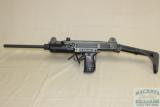 Uzi IMI Action Arms semi-automatic carbine 45 & 9mm barrels and receivers Made in Isreal, PRE BAN For more information call 252-793-4040. Please reference our inventory #49740. FFL req
...Click for more info
Seller: Mackeys
Area Code: 252
$2,999

Israeli Military Industries UZI model A 9mm para caliber rifle. Original Israeli model with 16" barrel and fake suppressor.
...Click for more info
Seller: Collectors Firearms
Area Code: 713
1,999.95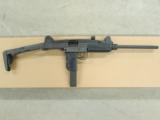 Brand new in the box, ready to ship. Buy it now!! CENTURY INTER ARMS INC UC-9 Carbine Based upon the combat proven and well respected Israeli sub-machine gun design developed by Uziel Gal in the 19
...Click for more info
Seller: Elk County Ammo and Arms
Area Code: 814
$759.99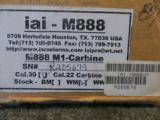 New in box IAI M888 .30 cal carbine. Peep site, Heat shroud, parkerized finish with a nice walnut stock. Purchaser is responsible for contacting a licensed FFL Dealer and sending a FFL copy to Halifax
...Click for more info
Seller: Halifax Supply
Area Code: 386
$1,149.99