Featured Gun Classifieds IMI Rifles
HAVE A IMI UZI 45 SA CARBINE IN 45ACP 16" BBL 97% ORIG FINISH IN ORIG BOX & OUTER SLEEVE & 3 MAGS CALL TO ORDER AT 401 738 1889
...Click for more info
Seller: D&L HUNTING
Area Code: 401
$2,199.99
IMI Rifles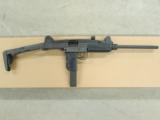 Brand new in the box, ready to ship. Buy it now!! CENTURY INTER ARMS INC UC-9 Carbine Based upon the combat proven and well respected Israeli sub-machine gun design developed by Uziel Gal in the 19
...Click for more info
Seller: Elk County Ammo and Arms
Area Code: 814
$759.99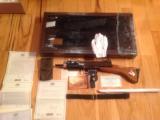 COMES WITH OWNERS MANUAL, WHITE GLOVES, EXTRA BARREL, SLING, DOCUMENTATION, WOOD DISPLAY CASE WITH GLASS FRONT.
...Click for more info
Seller: Jerry
Area Code: 260
$2,495
Seller: Cabelas Grandville
Area Code: 616
$1,119.99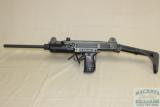 Uzi IMI Action Arms semi-automatic carbine 45 & 9mm barrels and receivers Made in Isreal, PRE BAN For more information call 252-793-4040. Please reference our inventory #49740. FFL req
...Click for more info
Seller: Mackeys
Area Code: 252
$2,999

Israeli Military Industries UZI model A 9mm para caliber rifle. Original Israeli model with 16" barrel and fake suppressor.
...Click for more info
Seller: Collectors Firearms
Area Code: 713
1,999.95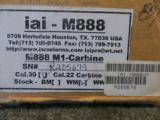 New in box IAI M888 .30 cal carbine. Peep site, Heat shroud, parkerized finish with a nice walnut stock. Purchaser is responsible for contacting a licensed FFL Dealer and sending a FFL copy to Halifax
...Click for more info
Seller: Halifax Supply
Area Code: 386
$1,149.99