Featured Gun Classifieds Joslyn Carbines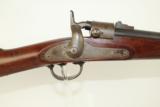 Antique Joslyn Model 1864 Civil War Cavalry Carbine Much Used Union Cavalry Carbine with Initials "L.A.F." Here we present an antique Joslyn Model 1864 Civil War Cavalry Carbine, mad
...Click for more info
Seller: AncestryGunsLLC
Area Code: 314
$2900
Joslyn Carbines

#969A JOSLYN MODEL 1862 CIVIL WAR SRC, 52 RF, 21" bbl., original sights, brass trigger guard, buttplate & bbl. band, metal turning a grey patina, fair bore, VG wood, some light pitting on loc
...Click for more info
Seller: Jim Goergen
Area Code: 507
$1795

#964A JOSLYN MODEL 1862 CIVIL WAR SRC, 52 RF, 22" bbl., original sights & saddle ring, brass trigger guard, butt & bbl. band, bbl. has a nice brown patina, lockplate stamped "Joslyn
...Click for more info
Seller: Jim Goergen
Area Code: 507
$2250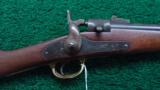 Cal 52 RF. 22" round bbl, blade type front sight and 3-leaf rear sight. Metal is a mottled gray. Brass trigger guard, buttplate and bbl band are a soft mustard color. Walnut stock has been lightl
...Click for more info
Seller: LeRoy Merz Antique Guns
Area Code: 218
$ 2,275.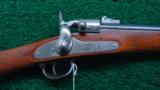 Cal 52 RF. 22" round bbl with a good amount of blue remaining. Balance of metal is a silver/gray color. Bright shiny bore. Wood is overall good with some minor chips and dents. No markings or car
...Click for more info
Seller: LeRoy Merz Antique Guns
Area Code: 218
$ 3,100.

Joslyn 1864 Saddle Ring Carbine. Nice sharp gun. Barrel and frame have a mostly smooth brownish plum patina. Wood is very good. Action works perfect. Bore is very fine!
...Click for more info
Seller: Collectors Firearms
Area Code: 713
1,895.00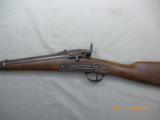 JOSLYN CARBINE 15-19 Joslyn Model 1864 Civil War Carbine, Iron mounting, bbl. Band, trigger guard, butt plate; bbl blued; lock case hardened. Serial # 15821 on Frame and Breech Brock.
...Click for more info
Seller: Harley Wood
Area Code: 305
$1,650.00