Kimber of Oregon Rifles - Big Game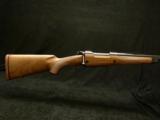 Kimber of Oregon Model 89 African .505 Gibbs, made on a proprietary double square bridge Magnum length Mauser action by Kimber of Oregon ca. 1990 to 1991, less than 20 .505 Gibbs were reportedly made.
...Click for more info
Seller: Gulf Breeze Firearms
Area Code: 850
$6,995.00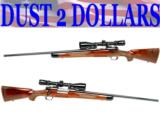 Another fine "ESTATE" firearm offered by Dust 2 Dollars. We offer you a Kimber of Oregon Model 89 BGR Deluxe Grade rifle chambered in .270 Winchester. This has the Featherweight 22"
...Click for more info
Seller: Dust 2 Dollars
Area Code: 503
$1,495.00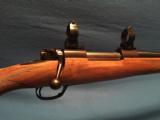 Excellent overall condition. 24 inch medium weight barrel. Comes with scope bases and rings. Beautiful walnut stock with a couple very light impressions. A very fine rifl
...Click for more info
Seller: FITZGERALD'S FINE GUNS
Area Code: 301
1,795.00 PLUS $35.00 S/H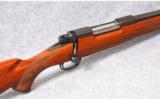 Seller: Cabelas Noblesville
Area Code: 317
$ 1,319.66
24" tapered round Magnaported barrel with hooded full-band front sight, full-band swivel base, and quarter rib with 1 standing and 1 folding express sight. Figured walnut stock with ebony forend
...Click for more info
Seller: Hallowell & Co.
Area Code: 406
$5995.