Sorry! You're too late.
The Kimber of Oregon Prototype Model 89 .270 GI# 100474019 has been sold.
Click
here
to see what else is available by PG.
View other listings in this category....
Kimber of Oregon Rifles - Big Game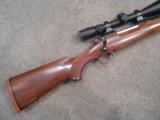 I am offering a Clackamas Kimber model 89 Big Game Rifle, Super Grade, in .280 Remington caliber. The rifle is in 99.99% new condition and shows no evidence of ever being used in the field.&nbsp
...Click for more info
Seller: Ballistics Bill
Area Code: 406
$2,090.00 plus $50.00 shipping/insurance

KIMBER BGR 89 DELUXE 375 H&H, 24" BARREL, KIMBER OF OREGON. WEIGHT 8.4 LBS. CHECKERED WALNUT WITH EBONY FOREND CAP. RED BUTT PAD. VERY CLEAN FIREARM. S&H $30.00 ADD 3% FOR CRE
...Click for more info
Seller: Sprague's Sports Inc.
Area Code: 800
$1,988.00

Great Looking Kimber Model 8400 Caprivi 375 H&H with 24 inch contoured blue barrel, 4 shot magazine, 3 position M-70 style safety, ebony forend tip,three leaf express sight and beautiful AA Grade
...Click for more info
Seller: Revita
Area Code: 704
2750 OBO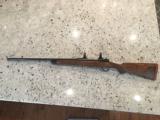 This is a Winston Elrod custom built 300 H&H. It is built on a Kimber BGR 89 controlled round feed action. The barrel is a 24" Douglas, 10" twist. It has a front barrel band swivel ba
...Click for more info
Seller: Larry R
Area Code: 512
$2,900

24" tapered round Magnaported barrel with hooded full-band front sight, full-band swivel base, and quarter rib with 1 standing and 1 folding express sight. Figured walnut stock with ebony forend
...Click for more info
Seller: Hallowell & Co.
Area Code: 406
$5995.