Sorry! You're too late.
The KIMBER OREGON DELUXE GRADE BGR 300 WIN GI# 100648875 has been sold.
Click
here
to see what else is available by FITZGERALD'S FINE GUNS.
View other listings in this category....
Kimber of Oregon Rifles - Big Game

Kimber 89 Super Grade in 338 Win Mag in excellent condition. Includes Nikon Scope 3x9 with BDC reticle. Super grade style sling swivels, horn forensic tip, 24" barrel. Original pad. Any light spo
...Click for more info
Seller: Barnegat
Area Code: 570
$2295.00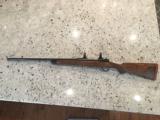 This is a Winston Elrod custom built 300 H&H. It is built on a Kimber BGR 89 controlled round feed action. The barrel is a 24" Douglas, 10" twist. It has a front barrel band swivel ba
...Click for more info
Seller: Larry R
Area Code: 512
$3,900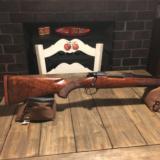 Sold. Here's a Kimber BGR Super Grade in 270 Win. Beautiful Wood! Has beaded cheek piece with square bridge receiver. Wood is 99% & bluing has one mark on barrel (shown). Shows no use.
...Click for more info
Seller: RG Guns
Area Code: 816
$1649.00 + S & I

24" tapered round Magnaported barrel with hooded full-band front sight, full-band swivel base, and quarter rib with 1 standing and 1 folding express sight. Figured walnut stock with ebony forend
...Click for more info
Seller: Hallowell & Co.
Area Code: 406
$5995.