Sorry! You're too late.
The Charles Lancaster GI# 100510999 has been sold.
Click
here
to see what else is available by DoubleGunz.
View other listings in this category....
Lancaster, Charles Rifles

Serial #8624, .300 Rook, 26" flat-topped barrel with a very good bore that has Lancaster oval rifling, and light pitting towards the breech. This is a nice little break-open rifle, built ca. 1880, th
...Click for more info
Seller: Joe Salter
Area Code: 603
$1,795.00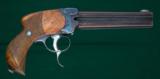 Four, 6" drop-down, Lancaster-oval-bore barrels with nickel silver blade front sight. Broad V-notch rear sight. Left-side thumb-lever double-top-latch barrel release. Automatic simultaneous eject
...Click for more info
Seller: Hallowell & Co.
Area Code: 406
$14,975.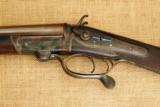 A beautiful Chas Lancaster Oval Bore black powder double rifle in the fairly common 450 BPE 3 1/4" cartridge. Very good condition overall. This is Lancaster's famous "slide and drop&quot
...Click for more info
Seller: Thomas Oppel
Area Code: 406
$11000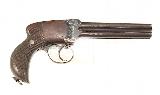 .380 caliber (38 S&W), 6" barrels finished blue. Breakopen action with side lever opening. Checkered walnut grips. I superb original condition showing some minor flaking of
...Click for more info
Seller: Caledonia
Area Code: 717
$18,500.00
Charles Lancaster 450/400 3 1/4". This is another one of those double rifles that are in exceptional condition without have been run through the refinishing mill. Barre
...Click for more info
Seller: Schwandt Classic Arms
Area Code: 608
$24,500.00
Stunning quality and condition. Converted by Lancaster from a muzzleloader to breechloader, something only under taken on very fine firearms as the labor cost was quite high. This one is a shooter a
...Click for more info
Seller: Bertrams
Area Code: 303
Sold!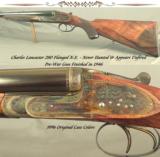 #18803, Charles Lancaster Sidelock 280 Flanged That Never Went Hunting & Appears Unfired, Pre-War piece that was finished in 1946, WWII altered the intended use of many Sporting Firearms and I bel
...Click for more info
Seller: Champlin
Area Code: 580
$35,500.00
#13633, Charles Lancaster: A Lancaster Boxlock Extractor 450/400 3 1/4" Nitro Express Made About 1909, It has 28" Extractor Chopper Lump Barrels with Rib Extension Dolls Head plus Third Bite
...Click for more info
Seller: Champlin
Area Code: 580
$14,950.00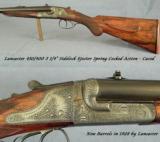 #13141, Charles Lancaster, 99 Mount Street, Berkeley Square, London: A Lancaster Back Action Sidelock Ejector "Spring-Cocked" 450/400 3 1/4" Nitro Express, Also referred to as the Lancaster Wrist Brea
...Click for more info
Seller: Champlin
Area Code: 580
$36,950.00