Featured Gun Classifieds Manton & Company Rifles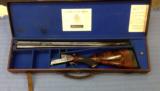 Manton .470 N.E. Extractor, 26" Barrels, bore almost mint, sights 100 standing - flip up 200-300, Dolls Head with third bite Approximately 80% scroll engraving, some case colors left on frame,
...Click for more info
Seller: KEN OWEN
Area Code: 901
$24,500
Manton & Company Rifles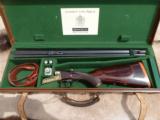 MANTON & CO. 360 No2 BOXLOCK EJECTOR DOUBLE RIFLE WITH CASE Here is the opportunity to own a once in a lifetime Manton & Co. 360 No2 in excellent shape. The metal to wood fit is perfe
...Click for more info
Seller: Jsitz187
Area Code: 979
$19,500
This little double rifle has it all including auto-ejectors. The bores are very nice to excellent. The last owner, a true double rifle Guru, told us this gun likes the 100 grain Remington Factory
...Click for more info
Seller: Vintage Doubles
Area Code: 509
$14,600.00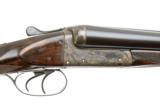 28" BARRELS WITH A 2 LEAF 1/4 RIB EXPRESS SIGHT 2 3/4 CHAMBERS DOUBLE TRIGGERS EXTRACTORS SPLINTER FOREARM ENGLISH GRIP EXCELLENT PROFESSIONAL RESTORATION 7LB 4 OZ X 2 7/8 X 1 1/2 X 14 3/4
...Click for more info
Seller: Steve Barnett Fine Guns
Area Code: 662
$5,950.00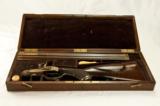 Excellent fully rifled bores. Tight action, exc mechanically. Proffessionally rebrowned barrels. Original mahogany case. 14 3/8 LOP. 19 3/4" barrels. 95% of gold inlays remaining.
...Click for more info
Seller: PHC
Area Code: 503
sold pending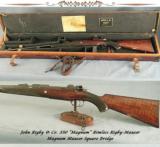 #4981, John Rigby & Co. 43 Sackville Street. London W: "Rigby 350 Magnum": A John Rigby Single Square Bridge Magnum Mauser Action built in the Golden Era of 1924 as a 350 Rigby Magnum Ri
...Click for more info
Seller: Champlin
Area Code: 580
$17,500.00