Sorry! You're too late.
The RIGBY 350 MAG RIMLESS- SINGLE SQUARE MAG MAUSER- BUILT in 1924- EXC PLUS BORE- ORIG CASE- EVERY SERIAL # MATCHES GI# 100641854 has been sold.
Click
here
to see what else is available by Champlin.
View other listings in this category....
Manton & Company Rifles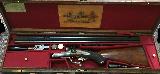 Massive Manton & Co 577-3" BPE Double Rifle: Sn: 77xx, Cal: 577 – 3" Black Powder Express. Heavy 27" steel barrels with semi-swamped full length filed rib. One standing and
...Click for more info
Seller: FOXTROT SPORTING
Area Code: 315
SOLD !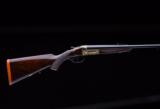 Manton & Co. Boxlock Ejector .360 No. 2 Double Boxlock Ejector engraved and damascened in gold with disk set strikers, automatic safety and two triggers. Rifle has 26" shoe lump barrels with
...Click for more info
Seller: Westley Richards
Area Code: 850
15,000.00