Featured Gun Classifieds Mauser Rifles - Model 66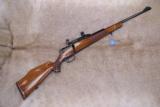 Mauser - Werke A.G. Oberndorf a.N. Model 66 30-06 24" standard interchangeable barrel, telescoping short action, single trigger, Monte Carlo walnut stock with checkering, rosewood tipped
...Click for more info
Seller: ZINCAIN
Area Code: 573
$1699
Mauser Rifles - Model 66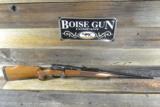 Mauser M66 270 WIN Model: M66 Condition: Used Gauge: 270 WIN Serial Number: G26745 Action: Bolt Action Rifle Metal Finish: Blued Receiver: Steel receiver Barrel Length: 23.5&qu
...Click for more info
Seller: Boise Gun Co.
Area Code: 208
$1,499.99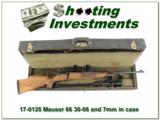 This is a very nice Mauser 66 2 barrel set. Both barrels come with see through scope rings as shown. They are 243 Winchester and 7mm Remington Magnum. It comes with both bolts. It also comes with orig
...Click for more info
Seller: barrybrowning
Area Code: 919
$1,799.00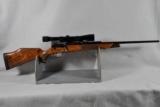 Mauser-Bauer Oberndorf, Germany, Imported into USA by Mauser-Bauer in Fraser, MI (1966-1973), bolt action rifle, Model 660 ("Export"),
...Click for more info
Seller: Maryland Arms Company
Area Code: 410
$2495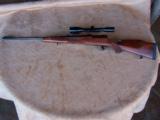 A very popular and collectible Mauser Model 66 rifle in the powerful 8 X 68 caliber. This chambering is one of Europe's most popular big game calibers and is comparable to the 338 Winc
...Click for more info
Seller: TheColtGuy
Area Code: 931
$3250 Reduced to $2995

TOP OF THE LINE DANGEROUS GAME RIFLE! MAUSER Model 66S DELUXE BOLT ACTION RIFLE ... 375H&H magnum caliber ... 26" barrel ... weight 11.00 lbs with scope ... LOP 15 1/8" over 7/8&qu
...Click for more info
Seller: James Wayne Firearms
Area Code: 361
$11,500.00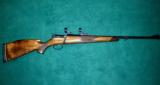 Priced to sell immediately is this Mauser Model 66 .270 Winchester Cal. Bolt Action Rifle With EAW Quick Detachable 1" Scope Mounts. The mounts are not easy to find today, and would cost over $4
...Click for more info
Seller: bushbuck8
Area Code: 310
1100 Free Shipping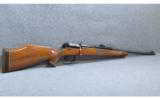 Unique Bolt Rail Action on This Beautiful Gun. A Very Beautiful Gun That Would be the Crown Jewel in Your Collection.
...Click for more info
Seller: Cabelas Thornton
Area Code: 303
$1,899.99

Mauser – Model 66 Standard, .25-06, bolt action rifle, 24" barrel, telescoping short action, Monte Carlo walnut stock with Bavarian style cheek piece and skipline hand checkering, Rosewood
...Click for more info
Seller: Connecticut Shotgun
Area Code: 860
$2,999.00