Sorry! You're too late.
The Browning model 1885 RMEF 10 anv. rifle 45 70 GI# 100604854 has been sold.
Click
here
to see what else is available by RSM.
View other listings in this category....
Rocky Mountain Elk Foundation RMEF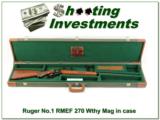 Collectors and big game hunters, this is a beautiful Ruger No.1 made for the Rocky Mountain Elk Foundation 1998 banquet. It is chambered in the hard-hitting flat shooting 270 Weatherby Magnum. It has
...Click for more info
Seller: barrybrowning
Area Code: 919
$1,599.00

NEW Browning X-Bolt Western Hunter Rifle RMEF18, 26 Nosler, 26" Muzzle Break, ATACS AU Stock, Black Finish 3 + 1 RNDS 1:8 TWIST THIS IS A RMEF BANQUET RIFLE FOR 2018 WITH RMEF LOGO
...Click for more info
Seller: DOMINIONOUTDOORS
Area Code: 540
$999.99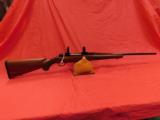 Ruger M77 MKII Rocky Mountain Elk Foundation 280 Rem. 22" bbl, used, excellent condition, beautiful wood stock, nice shiny gloss blue finish, few handling marks, comes with Ruger rings. Onl
...Click for more info
Seller: BUFFALO GUN CENTER
Area Code: 716
$550

Harrington & Richardson Topper Deluxe 12 Gauge shotgun. Rocky Mountain Elk Foundation Commemorative Single Shot Shotgun. Excellent condition.
...Click for more info
Seller: Collectors Firearms
Area Code: 713
$249.95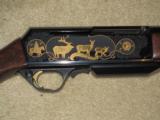 A Beautiful 270 Caliber Rifle 22" Barrel 439 of 450 Made in 2005 New in box Very small blemish on back of stock on right side 98% This is my personal rifle. Buyer pays $60 shipping charge.
...Click for more info
Seller: Sargeant Rock
Area Code: 573
$1,300.00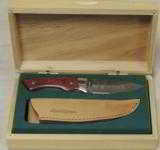 Limited Edition Remington Fixed Blade Knife Rocky Mountain Elk Foundation 2000 banquet edition knife #449 of 500 Made by Remington Custom sheath Custom presentation display
...Click for more info
Seller: Elephant & Castle Fine Arms
Area Code: 417
$299.00