Rook Rifles

Army & navy retailed Rook Rifle in 250 rook caliber. This example shows an octagonal 26" barrel with a bright good to very good bore. This rifle was probably built by Webley for A&N. The serial num
...Click for more info
Seller: Joe Salter
Area Code: 603
$1,095.00

This is a really neat little rifle built on a Martini action and with London proofs. I really like the bar-in-wood style full length stock that reminds one of the days of flint locks! Did I mention it
...Click for more info
Seller: Vintage Doubles
Area Code: 509
$1,400.00

A complete and solid gun that wtih some restoration would make super cool rook rifle. This is an English built 360 rook rifle that was retailed in Melbourne Australia by Rosier. We have had some of
...Click for more info
Seller: Vintage Doubles
Area Code: 509
$1,000.00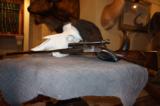 Rare Daniel Fraser rook rifle in .22 L.R. 26-inch lined octagon barrel with filed top. Serial Number 2551. Lightly scroll engraved action. 14 7/8" LOP to checkered horn butt. Wood has beautiful
...Click for more info
Seller: Henley & Delamere
Area Code: 585
$3,875

This was sold by Lofley of Brigg. Because of the damascus barrel it was relined with a modern .357 diameter tube and chambered for the .380 rook cartridge These are very rare and this one is in
...Click for more info
Seller: joelblack
Area Code: 608
$1695

Seller: joelblack
Area Code: 608
$1100

Seller: joelblack
Area Code: 608
$1,675.00
Bore has some very light pitting in places but over all very bright with sharp rifling. We are unsure of case length. Stock is loose on action so I suspect an internal crack that needs repairing. We
...Click for more info
Seller: Vintage Doubles
Area Code: 509
$1,500.00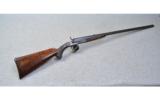 Seller: Cabelas Columbus
Area Code: 614
Was $1499.99 Now $1359.77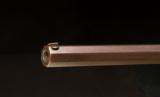 This would make a fun snake or vermin shotgun or to line back to a rook rifle of which it was originally. We have had this done to .32 S&W and it came out great.
...Click for more info
Seller: Vintage Doubles
Area Code: 509
$800.00

Nice bore on this very original classic. I love the octagon barrel and classic stocking with a horn grip cap.
...Click for more info
Seller: Vintage Doubles
Area Code: 509
$2,800.00