Featured Gun Classifieds Ruger Rifles - Carbine
HERE IS A SELDOM SEEN RUGER 44MAG DEERSTALKER IN VERY HIGH CONDITION WITH A 3 DIGIT SERIAL NUMBER WHICH WOULD PUT THIS RIFLE FIRST YEAR PRODUCTION 1961. PLEASE TAKE A LOOK AT THE PHOTOS AND EMAIL WITH
...Click for more info
Seller: Gungho67
Area Code: 207
$ 1695 OR BEST OFFER
Ruger Rifles - Carbine
Seller: Safari Supply LLC
Area Code: 804
$ 895. OBO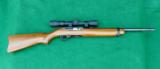 Seller: PG
Area Code: 503
$995.00
RUGER CARBINE 44 INTERNATIONAL, FULL STOCK, CHECKERED, 97+% BLUE WITH A FEWSMALL MARKS ON THE BARREL, EXCELLENT WOOD WITH A FEW LIGHT HANDLING MARKS, EXCELLENT BORE, MADE 1967
...Click for more info
Seller: WILDWOOD INC
Area Code: 207
$1,250.00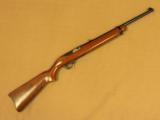 The Ruger Model 44 Standard Carbine was manufactured from 1961 to 1985. The guns were fitted with a 18 1/2 inch barrel, walnut stock, 4-shot mag., folding rear sight, were of blowback action, an
...Click for more info
Seller: Antique & Modern Firearms, Inc.
Area Code: 859
SOLD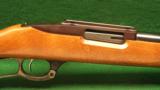 Ruger Model 96 Caliber 44 Magnum Lever Action Carbine Caliber: 44 mag Barrel: 18" Note: This is one of those hard to find Ruger model Ninety-six carbines. The gun remains in original fac
...Click for more info
Seller: NW Ponyexpress
Area Code: 208
$699.00
"SALE PENDING" RUGER MODEL 96 IN .44 MAG. EXCELLENT CONDITION BLUE & WOOD. CASE COLOR LEVER. MAG. FEED. GREAT LEVER ACTION CARBINE. DISC. IN 2008. DON'T FIND THESE EVERYDAY
...Click for more info
Seller: Rogers Firearms
Area Code: 229
$775.00
RUGER CARBINE .44 MAG. WITH WILLIAMS PEEP SIGHT. EXCELLENT CONDITION WITH NORMAL USE. GREAT BORE. HAS WILLIAMS PEEP & A LAYMAN FRONT. SN. 557XX, CALL OR E-MAIL WITH QUESTIONS.
...Click for more info
Seller: Rogers Firearms
Area Code: 229
$995.00

This an early 181- series Ruger Mini 14 Rifle to which has been properly fitted an S&K scope mount along with a period Weaver K4 riflescope and Weaver rings. Rifle is in overall excellent conditio
...Click for more info
Seller: Ocala Armory
Area Code: 352
$799.00
RUGER # 3 CARBINE CAL: 22-HORNET, BARREL LENGTH 22", FACTORY SIGHTS,REAR FOLDING AND FULLY ADJUSTABLE, OVERALL LENGTH 38 3/4", LENGTH OF PULL 13 1/2", APPROX: WEIGHT 5 3/4 LBS,FAC
...Click for more info
Seller: mikescustomshop
Area Code: 406
$1049.00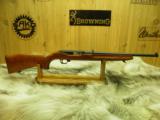 RUGER MODEL 44 FINGERGROOVE CARBINE, BARREL LENGTH 18 1/2", 12 GROOVE RIFLING 38 TWIST, GOLD BEAD FRONT SIGHT AND FOLDING ADJUSTABLE REAR SIGHT, OVERALL LENGTH 36 3/4", LENGTH OF PULL 1
...Click for more info
Seller: mikescustomshop
Area Code: 406
$1050.00
SALE PENDING...........................................................................................................RUGER .44 MAGNUM CARBINE FINGERGROOVE SPORTER, EXCELENT CONDITION, WITH NORMAL FI
...Click for more info
Seller: Mike Bishop LLC
Area Code: 229
$1,099.00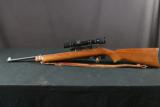 MADE IN USA. COMES WITH SCOPE AND SLING. 85% CONDITION AND ALL FACTORY. PLEASE ADD $35 FOR SHIPPING. RETURN POLICY: We offer a 3 day return policy. Items must be retur
...Click for more info
Seller: ART'S GUN SHOP
Area Code: 636
$900.00